Tips to Arrange Combined Living & Dining Room
Today's homeowners love open floor plans. After all, what's not to love about living spaces that feel expansive, bright, and inviting? Open-floor concepts are an ever-growing trend that combine two or more normally independent rooms to create one large space. In most cases, open-floor plan spaces will meld together the living room and kitchen, dining room and living room, or some other configuration. This contemporary layout offers many benefits, including convenient entertaining, promoting multifunctional spaces, and making even the smallest homes feel more spacious!


While open floor plans encourage togetherness, some combined living-dining room duos can stir up a decorating dilemma. It turns out that making sense of two spaces in a way that's cohesive yet distinct is often easier said than done. If you love your open floor plan but aren't sure of how to tie the two spaces together, don't fret. You don't have to move or add walls to achieve the sought-after look that you've seen in magazines. Here are 8 practical ideas for decorating your living-dining room combo like a pro:
Think of the Two Rooms as One
There's no question that living rooms and dining rooms are used for entirely different purposes by the average homeowner. One space is where the family goes to relax and hang out while the other is used for eating and entertaining. Of course, if your floor plan is open, these two distinct spaces seamlessly spill into one another, which can make the idea of decorating them as different rooms a challenge.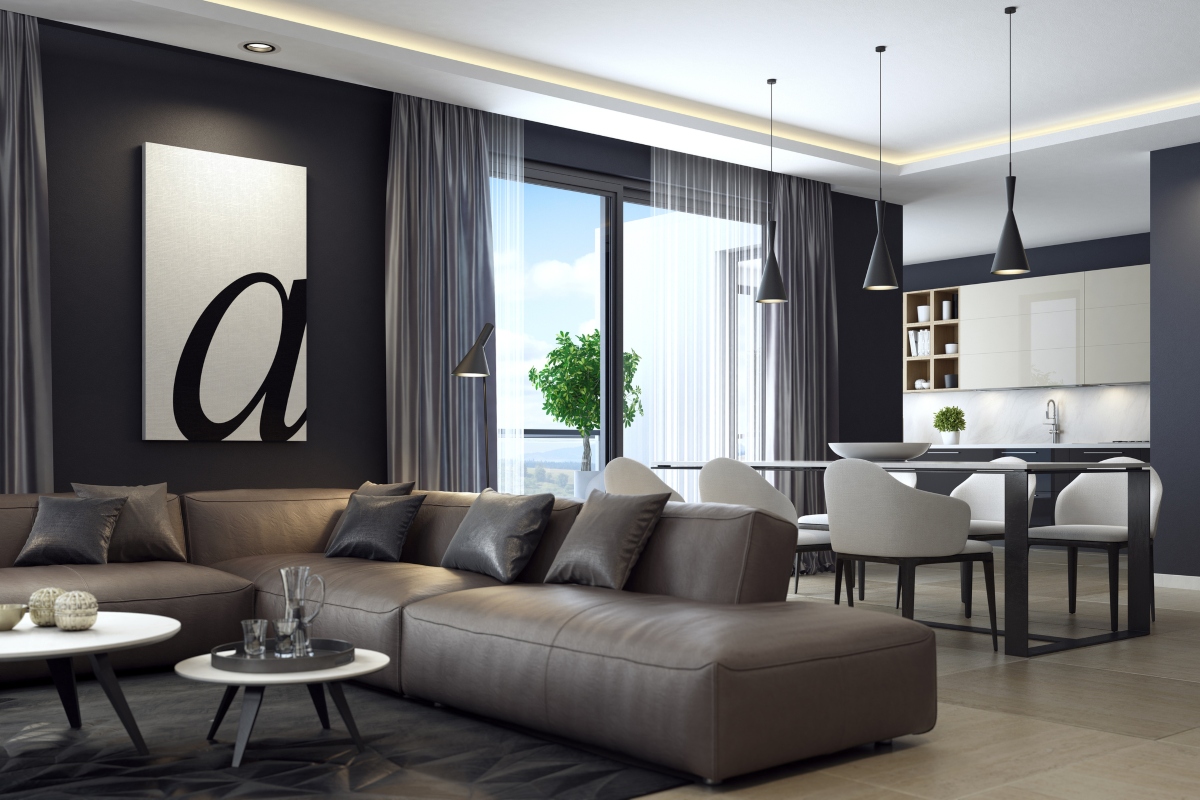 The trick to decorating your shared living room and dining room space in a way that embraces wholeness is to seek unity. Attempting to design each space as a strictly separate 'room' will create limitations and could make your decorating journey harder than it needs to be. Instead, approach this combined space as one large room, with design elements that flow throughout. When you look at the space as a single room rather than two rooms merging together, it's easier to envision a space that's harmonious, stylish, and balanced rather than disjointed, busy, and overwhelming.
Stick to a Single Style
A unified style that is reflected throughout the entire space is key to designing a living-dining room combo. After all, it wouldn't make much sense to decorate your living room with rustic, industrial furnishings if your dining room is adorned with Boho chic home decor. To ensure the two spaces effortlessly mesh, be sure to stick with a single decorating style. Here are some simple tips to help you do just that:
Color Scheme: It's important for the colors used in both your dining room and living room to work together, and not clash. With this in mind, it's a good idea to paint all walls of the room the same color to provide a blank canvas upon which you can build. Likewise, be sure to incorporate the same accent colors throughout both spaces. This can be accomplished through decorative pillows, artwork, window treatments, and more.
Furniture Style: The type of furnishings you display in an open-concept floor plan matters. Stick with pieces that complement one another, such as those made from matching materials, that come from the same time period, and are compatible in size and scale.
Accents: The accessories you use in any area of your home will make or break it. Because of this, it's wise to choose decorative accents that work well together, even if they aren't directly next to one another. For instance, if you bring in gold features, such as a light fixture, in the dining area, the same should be done in the living room. For a cohesive vibe, seek consistency in hardware finishes, upholstery colors, wood species and finishes in an open floor plan. A mix-and-match approach can also be very effective, but do so with intent and ideally with the guidance of a design pro.
Use Area Rugs to Define Separate Spaces
Area rugs are a homeowner's best friend. Along with feeling cozy beneath bare feet and adding much-needed color and texture to virtually any area of your home, rugs can be incredibly useful in defining smaller spaces within one large room. Choosing one area rug for the living room area and another one in the dining room space is an easy way to delineate specific spaces in a way that's both attractive and subtle. Area rugs will give the illusion of specific areas having their own style and function without the obstruction of a bulky piece of furniture or the separateness of a wall.
Float Your Sofa
Who says that your sofa has to be pushed up against one of the walls in your living room to look good? In many living-dining room combos, positioning the sofa away from the wall is a great way to break up the space. While the idea of having a sofa in the middle of your room may seem unusual at first, you may be surprised by how pleasing a "floating" sofa can be when used as a subtle room divider. If you're unsure of where to place a floating sofa in your open-concept living room, don't be afraid to try out different arrangements.

One option that works well in a variety of living-dining room floor plans is pairing two sofas together facing each other with a cocktail table between them. This will make visiting with your friends and family a breeze while creating a natural separation between the living room and dining room. 
Open Up to Sectional Sofas
Just as every home and homeowner is different, sofas come in an array of shapes, styles, and sizes. One of the most popular types of sofas that can be found in living rooms big and small are sectional sofas. Sectionals are seating solutions that are made up of different sections that are positioned together to create one complete seating arrangement. Sectionals come in three shapes: L-shaped, linear, or semi-circular. Homeowners love these comfy furnishings for their versatility, coziness, and style. While they're a beautiful option in virtually any living room, sectionals work particularly well in open-concept floor plans because their unique shapes can create the perfect room divider to distinguish your living room from your dining room.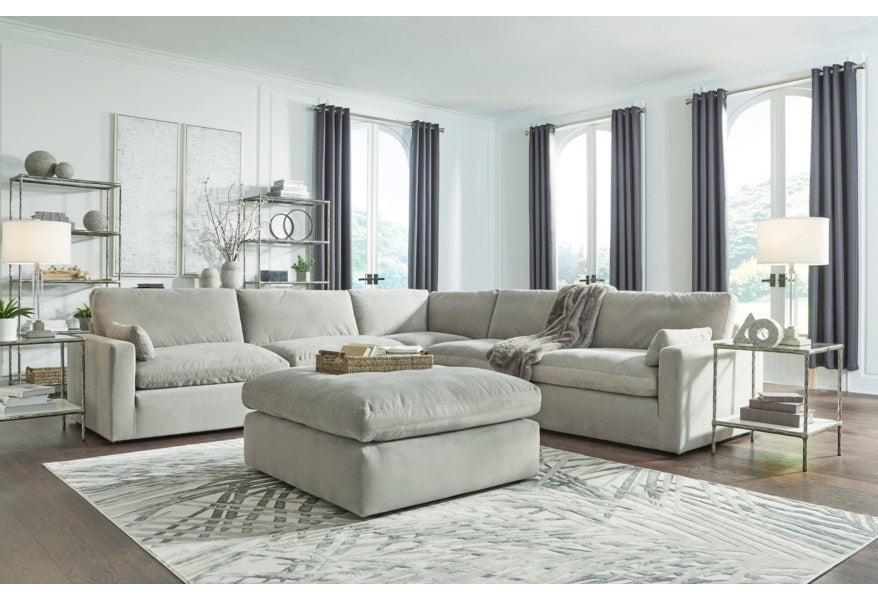 Use Bookcases Strategically
Homeowners who love open floor plans are attracted to the spacious, airy ambiance that is created by simply eliminating barriers between rooms. Because of this, using obstructions to separate one living space from the other can be counterintuitive. What's the point of having an open floor plan if you create walls with furniture, right? In general, this is a rule that's worth sticking to, but there are some exceptions.

One example of how furniture can be used as a natural room divider in a living room-dining room combo is by adding a bookcase or two. Open-back bookcases can work beautifully between an open-floor living-dining room. Open-back shelving maintains the exposed views from the living room to the dining room and vice versa, while the bookcase itself creates a clear delineation between the spaces.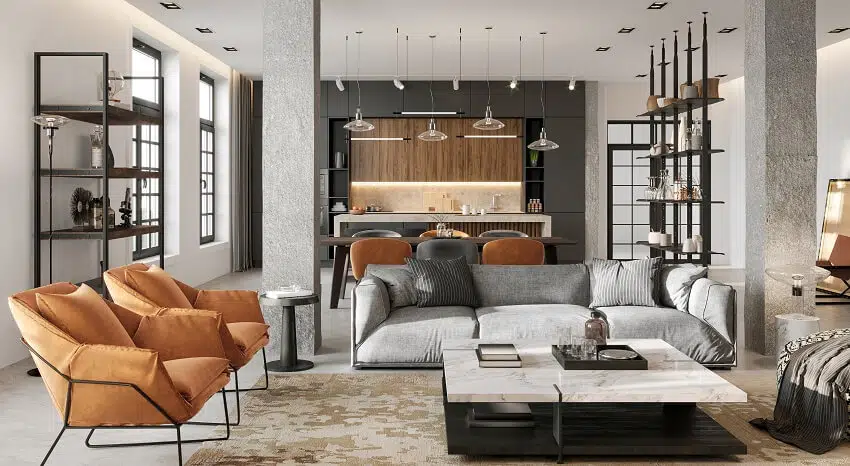 Pro tip: Don't forget to style your bookcases in a way that complements the rest of the decor within the space. When in doubt, you can't go wrong with arranging books by color, then breaking up the shelves with decorative knick-knacks, such as picture frames or pottery.
Consider the Shape of Your Dining Room Table
Believe it or not, the shape of your dining room table can have a tremendous effect on the appearance and functionality of this combined space. Your dining room table should be a shape and size that works within the space while still leaving plenty of room to maneuver around chairs. Here's what you need to know about the benefits of each dining room table shape:
Rectangular: Most homes have a rectangular-shaped dining room table. They work well in dining areas that are also shaped like a rectangle and can comfortably accommodate more than four people at a time, making this a great option for homeowners who entertain frequently or have a large family.
Round: For dining areas that are on the small side, a circular table is the way to go. Along with providing more space to walk around, tables in the shape of a circle create the illusion of the room having more space. While not the best option for large crowds, round dining tables are ideal for intimate gatherings and promoting easy conversations.
Oval-Shaped: Like their rectangular counterparts, oval-shaped dining tables are a good option when more than four people are sitting down to eat together. They may have slightly less surface area, however, they can make your dining space feel bigger in the same way that a round table can thanks to their rounded edges.
Remember, you can always add a table leaf to size up when you're expecting company then tuck it away to maximize space for your day-to-day living.
Turn the Volume Down
Keep in mind that an open-floor concept, although striking, has its drawbacks. One of those being amplified acoustics and trickiness around sound control. You don't realize how much buffering of noise walls provide until you step into a home with fewer walls. The good news is that there are ways to reduce the amount of sounds bouncing and amplifying in a contiguous space. Keep these tips in mind to absorb sound and control volume in your open living-dining room while enhancing the space's overall comfort and style:
Incorporate upholstered furniture, such as sofas, accent chairs, and dining chairs.
Add plush rugs to each area of the room.
Give the walls some character with art, photographs, and other wall hangings.
Pull the room together with accents, such as decorative pillows, throw blankets, curtain panels, and other eye-catching pieces.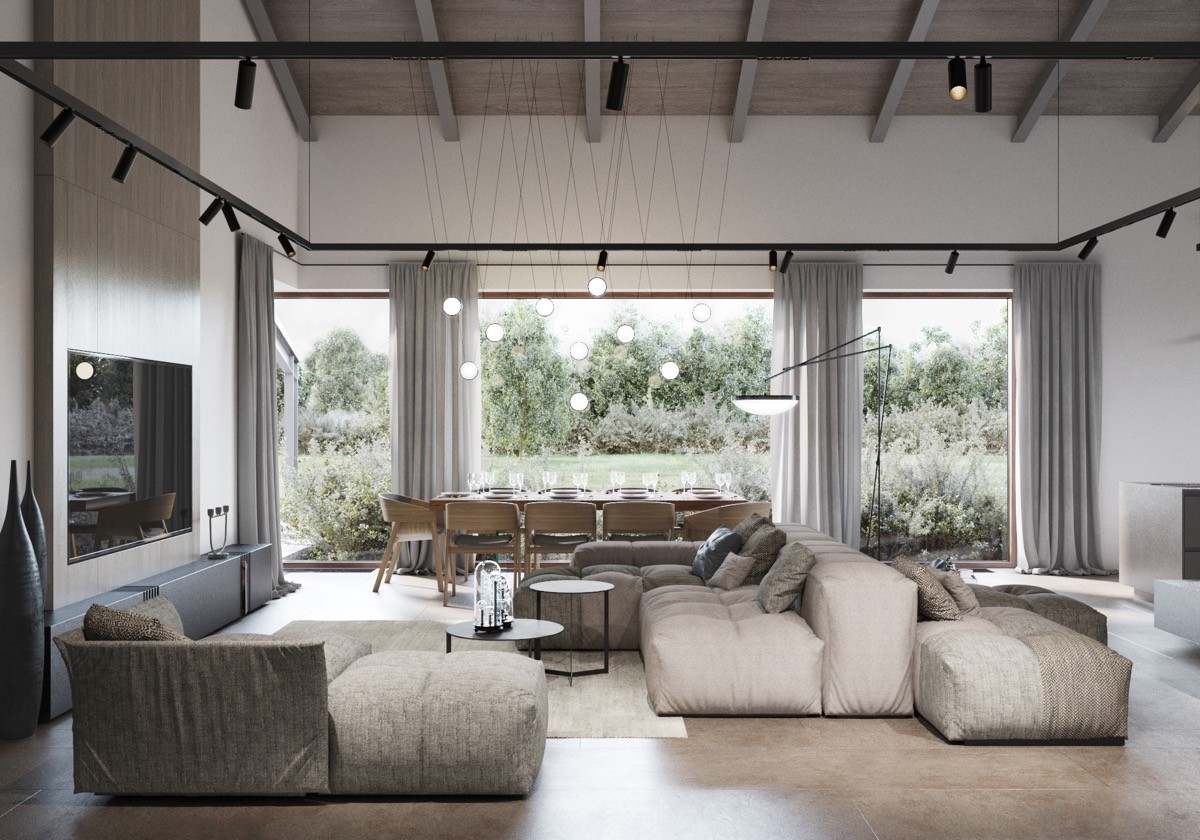 Taking the time to accessorize your living-dining room combo won't only prevent unwanted sounds from echoing from one side of the space to the other, but, most importantly, will create a more pleasant atmosphere that will help your house feel like a home.
Make the Most of Your Living-Dining Room Combo with
Lifestyle

Furniture

Curating a living-dining room combo should be fun, not stressful! At Lifestyle Furniture, our trusted design experts can help you navigate the challenges that come with space management challenges that are inherent and solvable in today's popular open floor plans. Along with choosing the right furniture style and color scheme for your home, we can guide you on how to position each piece so that you end up with an open-concept living area that is beautiful, comfortable, and functional. Visit us online today to check out our large selection of quality dining room furniture, living room furniture, accessories, and more to make the most of your dining room living room combo. We look forward to showing you how enjoyable designing every area of your home can be!