Tips for Selecting a Perfect Nightstand
When it comes to bedroom décor, your bed should be the star of the show. It's the biggest piece of furniture in the room and the place where you hopefully spend one-third of your time. As essential as the bed is, don't neglect the supporting cast, your nightstands, when designing your space. Nightstands help complete the look and keep your essentials on hand so you can enjoy a good night's sleep. These tips from the pros at Star Furniture will help you pick the perfect nightstands for your bedroom.
1. Size matters
To choose a nightstand that fits into your bedroom both functionally and aesthetically, start by thinking about size. Your nightstand should be proportional to both your bed and your bedroom.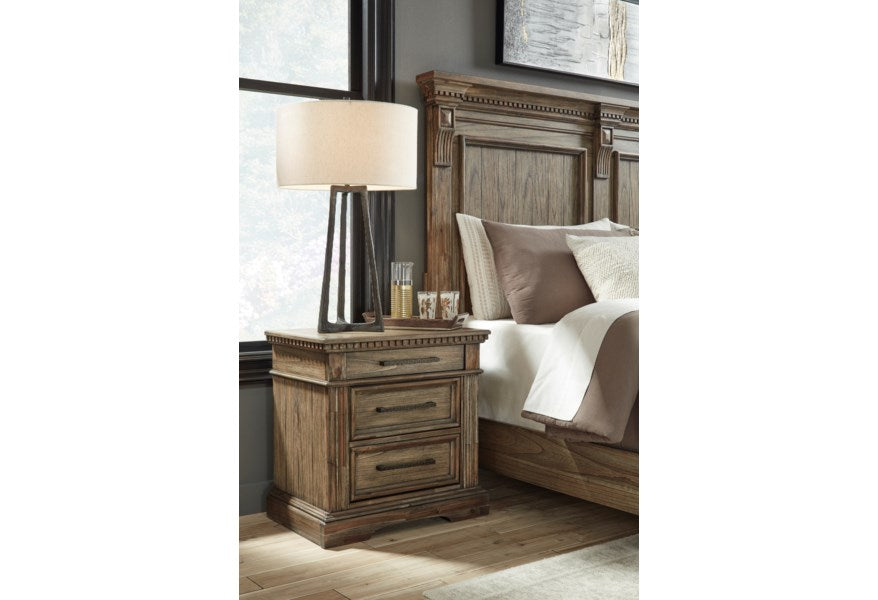 Measure for Ideal Height
First, measure the distance from the floor to the top of your mattress. To make sure that your nightstand fits visually with your bed and that you can comfortably reach for the items you keep there, your nightstand and mattress should be around the same height. Aim to keep your nightstand within about three inches of your mattress's height. If you can't get a nightstand that's exactly the right height, a slightly taller piece will usually look better than a shorter one.
Most nightstands are in the height range of 23 to 28 inches, which fits with the average bed height of 25 inches. However, plenty of nightstands that are shorter than 23 inches or as tall as 35 inches are available. Because this is such a big range, it's important to measure your bed before you start shopping. Sleek, modern platform beds are usually lower to the floor, which means you'll need a smaller nightstand. Beds with built-in storage drawers or traditional box springs will be taller.
Then, Consider Width and Depth
You also want to choose a nightstand that looks proportional to your bed width-wise. This is less of an exact measurement, but there are some number ranges you can consider to give yourself a starting point. If you have a full or queen size bed, look for an average-sized nightstand that's around 21 to 28 inches wide. If you sleep in a king or California king bed, you'll want a wider nightstand. Look for a narrow piece to pair with a twin bed.
When it comes to depth, make sure to think about it relative to width. This proportion will affect how wide or narrow the nightstand looks, regardless of how big it actually is. A piece that's much wider than it is deep will appear wider than one with a square top that has the same width and depth. It's also a good idea to think about how much you'll want to keep on top of your nightstand. If you only need a lamp, you can opt for a shallower nightstand than if you're planning to store a pitcher of water and a stack of books by your bed as well.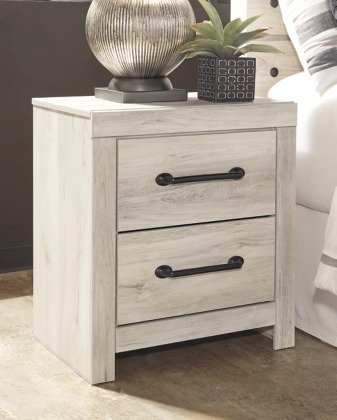 Along with the size of your bed, think about the size of your room, specifically the wall that your bed is up against. You don't want your space to look either cramped or too empty. If you have a lot of wall space, you might want a wider nightstand to fill some of it. If your room is smaller, your nightstand might need to be smaller to fit neatly between your bed and the wall. Remember that you'll want to leave about three to six inches between the bed and the nightstand to give yourself enough room to maneuver and make your bed without knocking things over.
2. Seek symmetry
You're almost always going to want two nightstands, so the easiest way to create a classic, elegant look is to go with a matching set. An identical pair of nightstands on either side of your bed looks balanced and symmetrical. This look is traditional for a reason. It can also be a good choice if you already have a lot of bedroom furniture pieces, like a vanity and accent chairs, in different finishes. Matching nightstands can streamline the space if you're worried about ending up with too much visual clutter.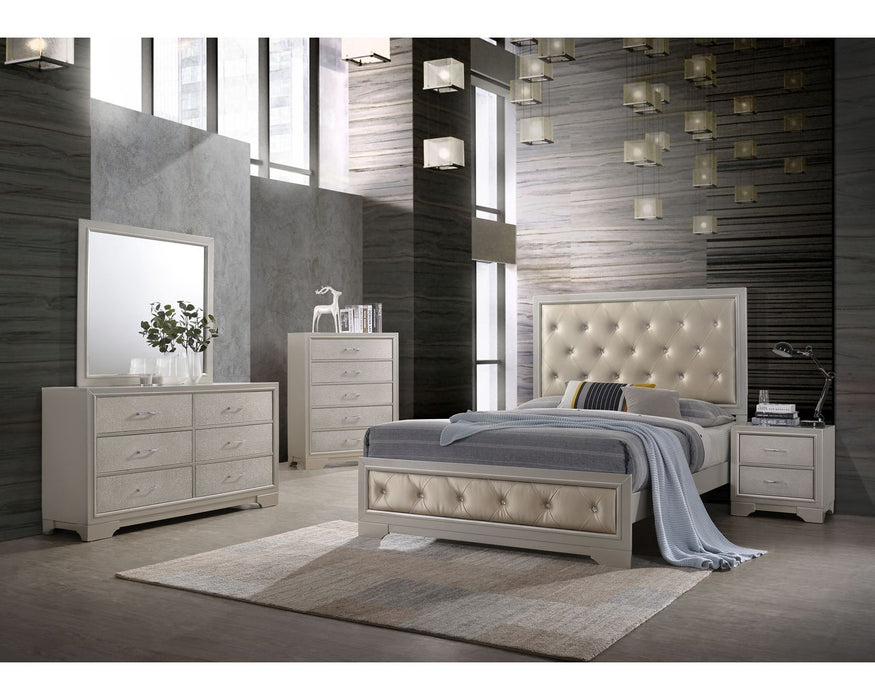 While symmetry and cohesiveness are important, be sure not to overdo it on either. Your nightstands should work with the overall aesthetic and color scheme in your bedroom, but they don't need to match your other furniture exactly. Choosing a different material creates visual interest and more complexity in your décor style. For example, if you have an upholstered headboard, a wooden nightstand will provide a great complement. If you have dark furniture and bedding, a dark nightstand can get lost visually while making the overall space feel a bit dingy. In this case, it's a good idea to choose a lighter nightstand, like a mirrored, white or pale wood piece. If your bedding and furniture are in mid-tones or lighter colors, you can choose either lighter colors for overall brightness or deeper shades for contrast.
3. But don't be afraid to mix and match
Rules are made to be broken, so don't hesitate to choose two different pieces for the different sides of your bed. Whether you do it for practical reasons or style preferences, carefully selected nightstands that aren't an identical set can look great. If you're planning to mix and match, look for pieces that have a common wood, color or hardware. Making your nightstand choice look cohesive and deliberate is usually easiest if you pick different shapes or styles in the same color. For example, you might choose a small chest of drawers and an open set of shelves, both in white. This will look more interesting than matching pieces, but the cohesive color ties the look together. You could also choose a set with a different unifying feature, like a silver and glass table paired with a wooden set of drawers with silver pulls.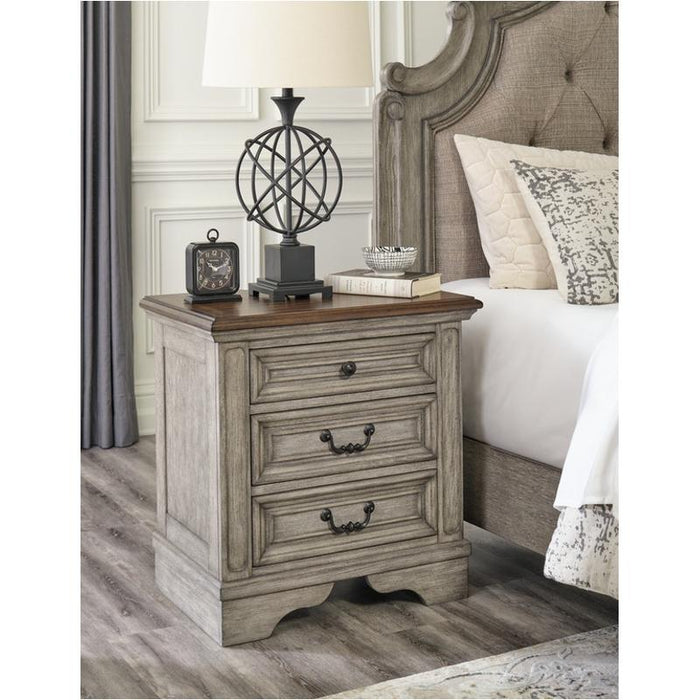 Mixing and matching can also be a great option if you don't need the same amount of storage or don't have the same amount of space on each side of the bed. For example, if your partner only needs to keep a smartphone and a lamp on their nightstand but you'd like a stack of books and your entire skincare routine in yours, you might opt for a small side table on one side and a larger piece with plenty of shelving on the other. If your room size and layout require your bed to be closer to the corner on one side, you might put a compact table in the corner and a larger chest of drawers on the opposite side. Because they're smaller than your other bedroom furniture, nightstands can also be a good place to add a pop of color or texture to your space.
Most bedrooms need two nightstands, but it's fine to stick to one if it works better for your space. If you have a small bedroom, especially if your bed sits in or close to the corner of the room, you might prioritize space over a second table. One nightstand also makes sense in kids' rooms, with twin beds or if you don't share the bed.
4. Control clutter
Nightstands aren't just style accents. They're also a place for bedtime essentials you'll want within easy reach at 2 in the morning. Nightstand styles vary in how much storage space they offer, so it can be helpful to make a list of what you like to keep in yours while you're shopping. Most people will want a lamp and a spot to keep a smartphone. You might also want a book, magazine, glass of water, nighttime medications, skincare products, glasses, houseplants, an eye mask or other items. Getting an idea of how much you'd like to keep with you can help narrow down the right nightstand style for you. Traditional nightstands have a shelf and a drawer or two, and you can also opt for a side table, small chest of drawers or set of shelves.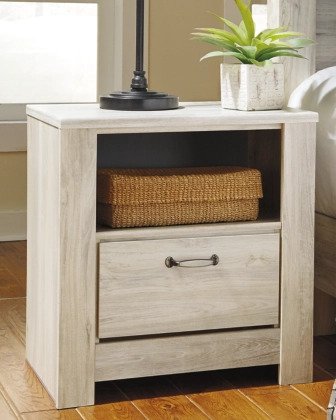 If storage space is at a premium in your bedroom, you might want a nightstand that offers room for more than your bedtime essentials. For example, you could use a small shelving unit to store books and keep your lamp, glasses and phone on the top. Making sure that your nightstand has enough storage space helps you keep clutter under control. If your important items don't have a place where they belong, they'll turn into a mess somewhere else.
Since you'll probably be keeping your phone on your nightstand, it's also helpful to think of your nightstand as a charging station. Look for a piece that has built-in outlets or charging ports. This makes it easy to plug in your phone without reaching behind your furniture to get to a wall outlet.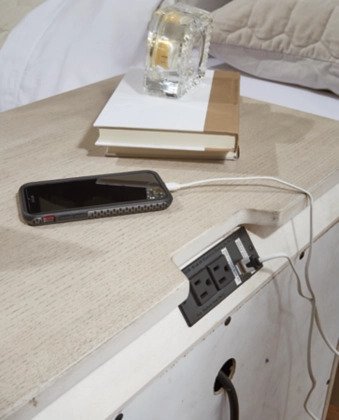 Now that you have a better idea of what to look for, it's time to start shopping. Lifestyle Furniture is your ideal source of both inspiration and beautiful furniture. Visit our website to start exploring your options!