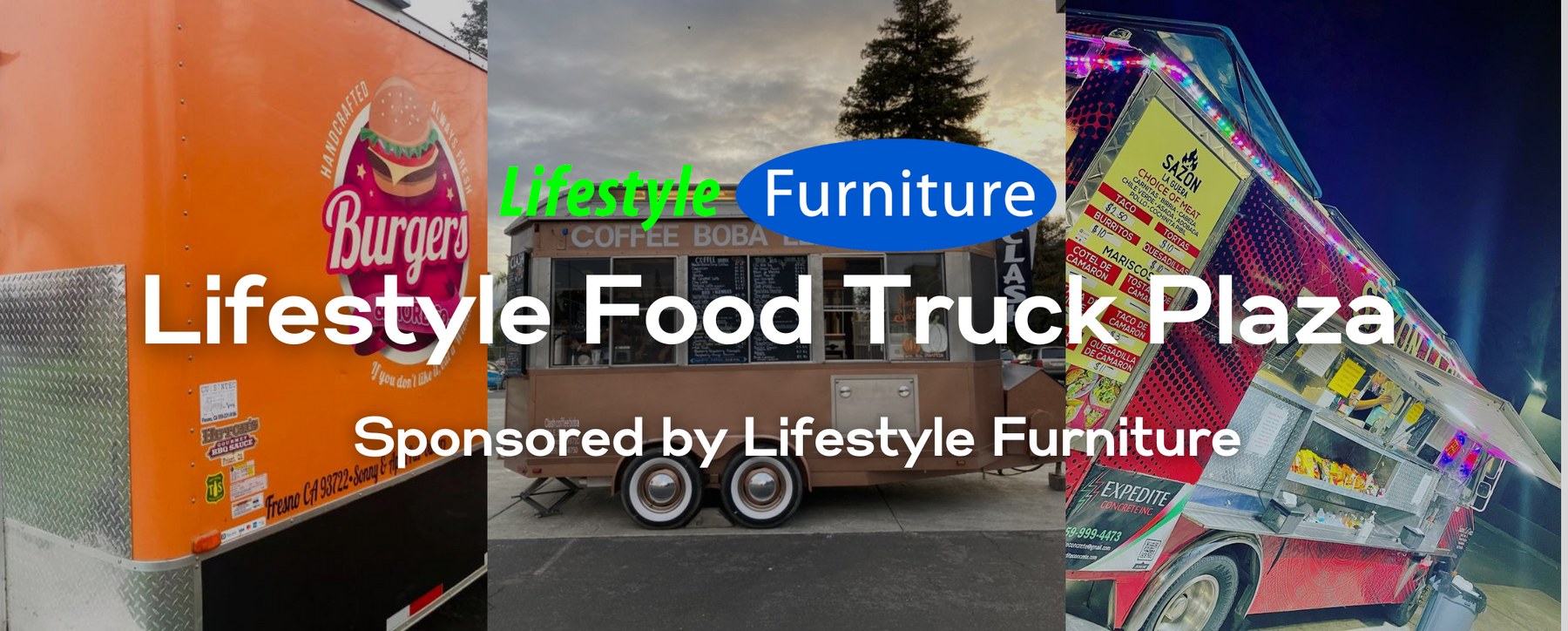 Lifestyle Food Truck Plaza Sponsored by Lifestyle Furniture
What is better than great food, naturally sourced coffee, and music in a fun outdoor setting? Having it in one place! That's right some of the best mouth-watering burgers made by Burgers & More Co and tacos by Sazon La Guera are both located here at Lifestyle Food Truck Plaza for your enjoyment. In addition, we have Clash Coffee & Boba on site as well so if you are not too hungry you can refresh yourself with a yummy freshly squeezed lemonade. With beautiful patio furniture set outside alongside music playing it is a one-stop shop for families, friends, or even a date night to get great food, refreshments, and fresh air. 
You can be known as the person who found out about this place because we are only a couple of months old and counting. Come on down to Lifestyle Food Truck Plaza today and get that mouth whet. You won't regret it. Trust me! My mouth is wet right now thinking about it. 
Featured Trucks 
Clash Coffee Boba
Clash Coffee Boba is a coffee truck that serves drinks that are fun and unexpected, made from quality local ingredients, real fruit, pure extracts, and homemade syrups. They serve coffee and espresso drinks, milk teas, and a variety of different lemonades. These lemonades are known as "Clashades" - a combination of several different ingredients clashed together. 
Clash has only been around since October 2021 but already have been recognized by the Fresno Bee, ABC 30 News, & B95. In addition, have quickly acquired over 20K on TikTok. Clash is a very young coffee truck, but have big dreams and they have come out the gate on fire. I got a chance to ask one of the owners Terresa about what the mission is behind their business
"We wanted to create a place that supports local businesses, real ingredients and were freshly made from scratch, and support free and direct trade import ingredients, like our coffee and tea. That is not grown in America.
We also want to contribute to the social impact of our community by establishing a place where people feel welcome. valued and wanted. As well as contributing to important social issues through fundraising and awareness."
Clash Coffee Boba is a family affair and is currently being operated and employed by all family members. What has been separating them from their competition is their organic and natural approach to their drinks. 
Clash is the first and one of the visionaries of Lifestyle Plaza. One of the partners of Clash Coffee Boba is one of the current owners of Lifestyle Furniture and with them both wanting to create a more welcoming environment for their customers it was a match made in heaven and Lifestyle Plaza was born. 
The last thing I got to ask Teresa was if you were to serve the president something from your menu what would it be? She said, "Mt. Caramel Latte" also known as one of their best sellers made from real homemade caramel. 
You can find Clash Coffee Boba at Lifestyle Food Truck Plaza Monday - Friday from 7 am - 7 pm. Stop by for morning coffee, a lunch pick me up, or a refreshing lemonade with dinner!
Sazon La Gueara 
Sazon La Guera is a taco truck that serves tacos, tortas, burritos, quesadillas, nachos, quesobirria tacos, and birria noodles. They began their taco journey in August 2020. I asked the owner Julissa what the mission statement is behind these mouth-watering tacos were and she said 
"My mission when I first started my business originally was to invest in something that would not only benefit myself but something where I could help my mom as well. My mom has been in the food truck industry for over 15 years, always working for someone and always putting others before herself. We wanted to start a business we just didn't know what we wanted to do quite yet. After talking to my mom and getting her on board with us was when we decided to get a food truck. It was the perfect move for both of us." 
Sazon La Guera is all about family and is currently family-owned and operated. Their food tastes like it too. A lot of people claim that it is like homestyle Mexican food and that is what makes it stand out. Currently, there is the mom, owner, and husband working in the truck alongside other members that chip in hours when needed. 
Before being a part of the Lifestyle plaza, they were with the Fresno Street Eats doing events. They decided to move to Lifestyle Plaza because they wanted something more consistent and permanent for customers.
The last thing I got to ask the owner Julissa was If they had the opportunity to serve the president a dish from their truck what dish would it be? Julissa said, "I would definitely say it would be our quesobirria tacos which is one of our most popular dishes!"
You can find Sazon La Gueara at Lifestyle Food Truck Plaza Monday - Friday from 10:30 am - 7 pm. Stop by for lunch or dinner!
Burger & More Co.
Burgers & More Co. is a gourmet burger truck that also offers catering for weddings, private events, schools, wineries, and breweries. Their cheeseburger journey started in 2017 and have a passion for helping the community whenever they have the opportunity. 
They made the choice to come to Lifestyle Plaza because they felt that Shaw and Blackstone is a great location for them to be found by new customers as well as have a more stable spot for their current customers to find them consistently. 
I asked the owner Sonny If you were to serve the president something from his menu what would it be? And she said "Our Kick'N Cowboy Bacon Cheeseburger which consist of lettuce, tomato, bacon, pickles, onions, bbq sauce, and beer-battered onion rings. 
You can find Burgers & More Co. at Lifestyle Food Truck Plaza Monday - Friday from 11 am - 7 pm. Stop by for lunch or dinner!