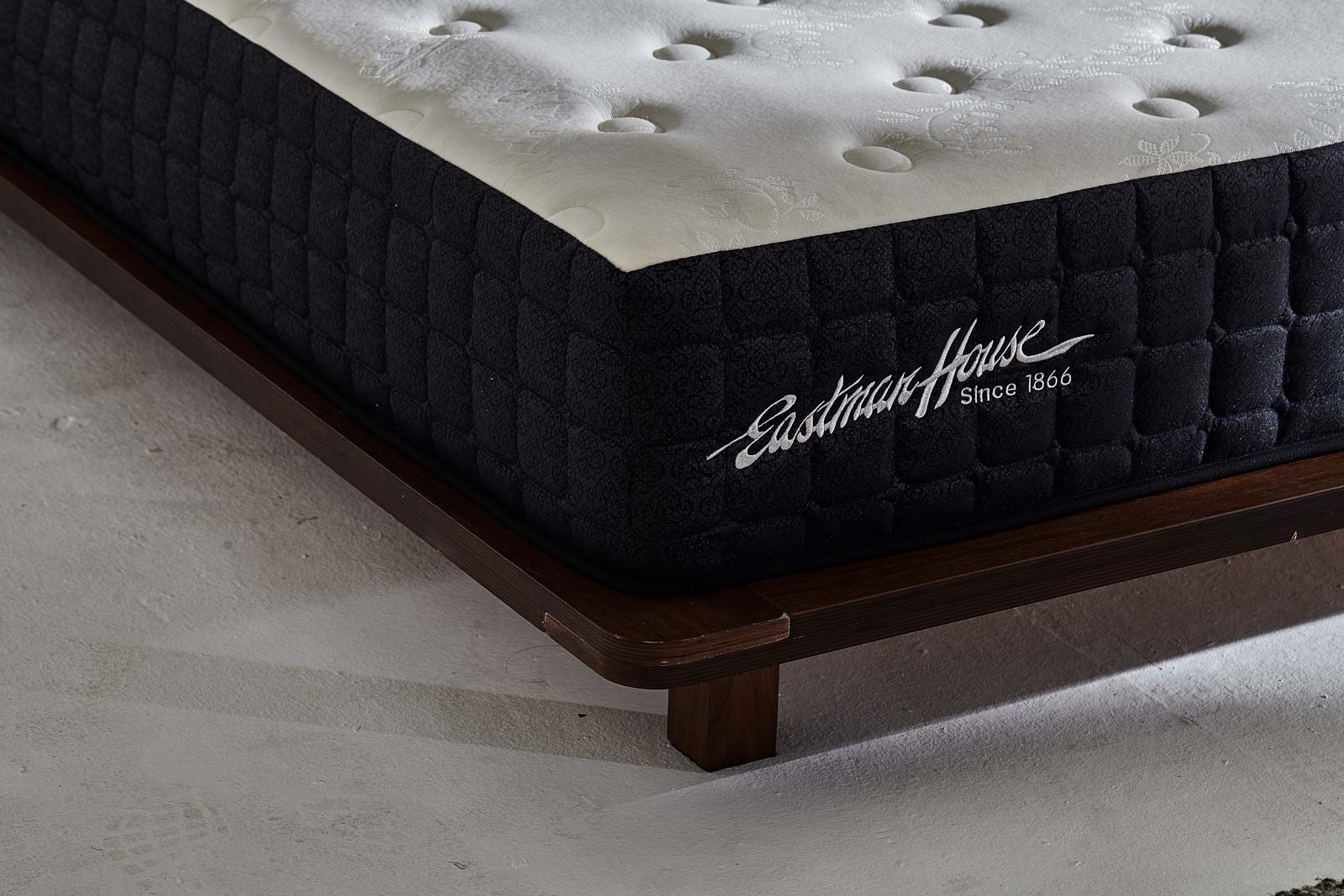 Eastman House At Lifestyle Furniture
Based in Burlington, Iowa, Chittenden & Eastman Company is a leading U.S. mattress manufacturer. The company's products are marketed under the name of its Eastman House division and include: Chittenden & Eastman's Individually Encased Coil Innerspring mattresses; Chiropractor's Care Sleep System mattresses, which promote better spinal alignment through more equalized weight distribution; and the Renaissance Latex Foam Collection.
According to them, no mattress in the world rivals the comfort, support and durability found in their flagship Eastman House line. Chittenden & Eastman sleep products maintain their superior comfort and support features night after night, week after week, and year after year. That's why Chittenden & Eastman proudly offers America's Best Mattress Warranty!
HISTORY
Chittenden & Eastman prides itself on being one of the world's oldest continuously owned furniture companies. Indeed, the company dates back to 1866, when Andrew Johnson was president of the United States and the nation had scarcely entered the Reconstruction period following the Civil War. That year, a writer and politician named G.M. Todd and a dentist named H. Bailey formed H. Bailey & Co. Located in a three-story brick building on Burlington's Washington Street, complete with a 20-foot storefront, the new company was devoted to furniture jobbing and retailing.
Prior to adopting the name Chittenden & Eastman, a number of ownership changes occurred. When Bailey went back to his dentistry practice, H. Bailey & Co. was re-named G.M. Todd & Co. Another name change happened in 1873, when the company assumed the name of Todd, Pollock & Granger. At this time the company erected the first part of a facility on Third Street, which it would continually expand to accommodate growth. Two years later, a traveling salesman named Henry W. Chittenden, a native of Keokuk, Iowa, joined the enterprise. Upon Todd's retirement in 1877, Chittenden became a partner in the business, which was renamed Pollock, Granger & Chittenden.
At this time, H.W. Chittenden had annual sales of $500,000 and 24 employees. Operations were conducted in two buildings, one six stories in height and the other two stories. Together, these structures provided 46,800 square feet of space, which almost always held an inventory valued at $100,000. In addition to Iowa, three salesmen served customers in Montana, Wyoming, New Mexico, Utah, Dakota, Colorado, Nebraska, Kansas, Missouri, Minnesota, and Illinois.
In its first 63 years, Chittenden & Eastman had firmly established itself as a leading supplier and manufacturer of mattresses and upholstered furniture, carrying some 120 different lines of goods. This early success allowed the company to enjoy a period of steady, gradual growth as its 100th anniversary loomed in the not-too-distant future. During this time, a significant development occurred when the only remaining member of the Eastman family sold his stock to company employees in 1942. Also that year Walter B. Eaton succeeded H.W. Chittenden as company president. While Chittenden served as president for 43 years, the office was held by a comparatively large number of successors in the years immediately following his vacancy. Eaton served as president until 1947, when C.A. Duffy took the reins. In 1954, C.W. Reger succeeded Duffy.
In 1975, Chittenden & Eastman completed a 170,000-square-foot addition to its new plant in order to accommodate the need for furniture and mattress storage. The addition increased total usable space to 264,000 square feet. The company ended the decade by promoting Anthony R. Weiler to the office of president. Weiler had joined the company in 1960 as a sales representative and quickly rose through the ranks, earning promotions to sales manager in 1965 and vice-president in 1972.
Weiler was at the helm of Chittenden & Eastman in 1982, when company officials decided to cease the manufacture of furniture and focus exclusively on mattress-making. Although the company no longer made furniture, its distribution arm continued to function as a furniture importer and wholesaler.
As the 1990s progressed, Chittenden & Eastman began to set its sights on a larger market. With estimated annual sales of $40 million, the company was among the nation's leading bedding manufacturers, along with Restonic. In October 1993, Chittenden & Eastman formed a joint venture with Hartford, Connecticut-based Blue Bell Mattress Company that enabled it to enter the New York and New England markets. Robb told the trade press that the agreement was the first step in a larger plan to expand nationally.
In January 1994, Chittenden & Eastman made another key acquisition when Eastman House purchased Aireloom Bedding, an El Monte, California-based bedding and furniture manufacturer with sales of nearly $10 million. In the January 17, 1994, issue of HFD, Robb commented on the acquisition, explaining that it would "greatly increase our manufacturing and distribution capabilities on the West Coast, while simultaneously freeing up an additional 15 to 20 percent manufacturing capacity at our Burlington facility." Founded in 1950 by King Karpen, Aireloom's manufacturing facility spanned 88,000 square feet and ramped up Eastman House's production capacity by some 60 percent.
When it was determined that the Roosevelt Avenue Chittenden & Eastman plant, built in 1972, was inefficient in a number of ways, the company talked of relocating its manufacturing operation to a newer facility in Burlington. However, the move never transpired. In May 2003, Chittenden & Eastman announced that it planned to relocate production to Missouri. Although the corporate headquarters would remain in Burlington, where some 21 people were employed, the move meant the city would lose approximately 50 manufacturing jobs. In late May, Chittenden & Eastman announced that it had sold its facility to the Schwenker family, owners of the Standard of Beaverdale lumber yard. Eastman House's manufacturing took up about 40 percent of the building, and the company established a lease to continue operations there indefinitely, until a final decision was made on when Burlington would lose a manufacturing base that had been part of the city's history longer than any resident could remember.
PERFORMANCE
There are many key factors driving the success of these brands, including experience, quality, value and, above all, unique patents. If there is one common thread that binds all the Eclipse and Eastman House licensees together, it is the demonstrable benefits offered by BIA's innovative patents and construction features. These include the SPINAL ZONE Patented Sleep Technology, patented LIFEEDGE Perimeter Support, Zoned Quilt Patented Sleep Technology, Patented Allergy-Free Design, and COILONCOIL Advanced Sleep System Technology. The inner springs allow your muscles to relax in a more natural sleep position.  The coils adjust instantly to your sleep movements, providing comfort and support throughout the night.  The pocketed coils also prevent any disturbance by your partner's movements or getting into or out of bed. 
At a recent industry expo, a number of mattress factory executives cited these patented benefits as great additions to their product lines—and a means to bring real value, performance and business opportunities to mattress and bedding retailers throughout the world.
At Lifestyle Homestore, Eastman House has become our partner for a long time and is always recommended by our customers. Eastman House Mattresses provide the active support your body needs, but the indulgent comfort layers pamper you with the luxury your body desires. These layers of high-quality foams, fibers and fine quilted covers work in harmony to deliver a level of body conforming comfort unmatched by any other. Also, these beautiful, hand-tufted mattresses are made with the highest quality components to ensure a premium sleep experience. If you have a chance, please come to our store located at Fresno, California to have a real experience with these mattresses and we ensure that you will be absolutely satisfied with the quality of them or click for online shopping. Lifestyle Furniture, Furniture for your Lifestyle!