Simple Ways to Refresh Your Home In This Summer
For many, summer can mean fun travel plans, rotating house guests, or even staycations. No matter how you plan to spend your summer, these creative home décor ideas from Lifestyle Furniture can help you refresh your home so you can fall in love with it all over again! You can click to images to see the products online.
Select a Statement Piece
A statement piece is any piece of furniture or décor that becomes the focus of your design. Also known as conversation starters, a statement piece is typically the first thing people notice when they walk into your space. If you're looking for ways to refresh your home without having to replace all of your furniture, finding the right statement piece can completely transform your design, even if you only add that one new item. When choosing a statement piece, you might want to consider something with bright colors, bold patterns, or unique shapes in order to provide the visual interest needed to draw the focus of the room.
Incorporate New Accent Furniture
Incorporating accent furniture is one of our favorite home décor ideas to help you change up your look. Accent furniture refers to any furniture that intentionally stands out, adding character and personality to the room while also complementing the room's general décor. While many furniture items are predominantly functional in nature, accent furniture serves a design purpose first and a functional purpose second. That's why accent furniture can be so helpful when you're looking for ways to refresh your home. To get started, choose an accent piece (chair, table, lighting, etc.) that both stands out and complements the room's design. Like statement pieces, accent furniture tends to have bold patterns, bright colors, and/or unique shaping, so find what works for your space and see how completely it changes the overall look and feel of the room.
Replace Your Rug
You probably already know that area rugs serve multiple functional purposes like anchoring furniture, reducing noise, and providing extra comfort, but changing out your rugs can really make a big difference in the aesthetics of any room in the house. So, if you're looking for simple ways to refresh your home décor, replacing your rug is a fast, easy, and inexpensive way to change up your design in a meaningful way. But it's not just about the look of the rug.
In fact, while getting a new rug is sure to add some visual interest to the room, simply moving the rug's location can make a big impact on the look and feel of the room. If you're hoping to change out the rugs in your living room, dining room, home office, or bedroom, start by considering the color palette of the room and then start looking for designs that speak to your personality and style.
Swap Out Your Throw Pillows
Looking for simple ways to refresh your home with minimal effort? Start with your throw pillows. While we recommend swapping out your throw pillows for every season, simply updating them once a year is a great way to change up the vibe of your bedroom, living room, or home office. To get started, consider how long you'll want to leave the new throw pillows out. If you're hoping to swap them out every few months, for example, you might want to pay attention to seasonal colors and patterns. If you're changing them out for the whole year, on the other hand, you'll want to focus more on your room's style and color palette.
Upgrade Your Bedding
When it comes to creative home décor ideas, upgrading your bedding is another quick and relatively inexpensive way to refresh your home. Not only is bedding less expensive than new furniture, but it also takes up a significant amount of real estate in your bedroom. That's why it can make such a huge difference in the look and feel of the room. Like throw pillows, many people upgrade their bedding seasonally, which keeps their bedroom looking fresh throughout the year. Plus, you likely have different preferences in the warmer months than you do in the colder months. Flannel sheets and heavy quilts, for example, might make sense in the winter, while breathable cotton sheets and a thin duvet may be more appropriate for the summer months.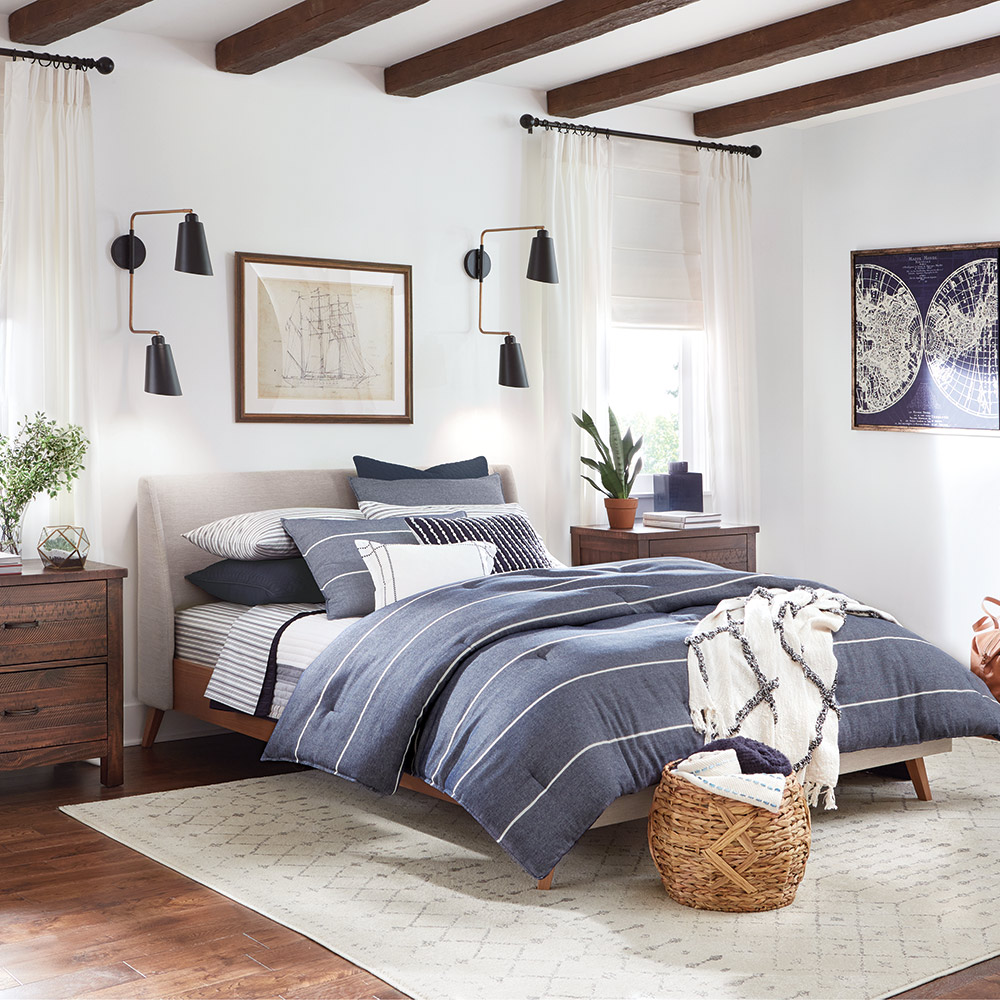 Add Some Accessories
You don't necessarily need to purchase any big-ticket items to make your home feel fresh and new. In fact, adding a few thoughtful and stylish home accessories here and there can make a noticable difference. Not sure where to start? Try adding some green to your home décor with real or fake plants and flowers. You can even choose chic pots and vases for an added splash of style.
Need to brighten up your home? Try strategically placing decorative mirrors across from or next to windows or other light sources throughout your home. Not only will this make your room feel brighter and more cheerful, but it can also make the room feel larger. You should also be on the lookout for smaller pieces of furniture that might enhance your space like a cocktail ottoman, a bar cart, or a storage bench. In addition to adding to the style of your room, these home accessories serve practical functions that will come in handy in your day-to-day life.
Refresh Your Lighting
From floor lamps and table lamps to wall sconces and chandeliers, updating the lighting in your home is one of our favorite ways to refresh your home. Changing out the lighting fixture over your dining room table, for example, is a great way to change up the vibe of the room without having to replace expensive items like dining tables and hutches. Similarly, you can upgrade the table lamps in your living room, bedroom, or home office for a fresh and updated look without having to replace sofas, beds, or desks. 
In fact, Lifestyle Furniture has a huge selection of table and floor lamps in a wide range of styles so you can play with fun looks for your home. Whether you buy new lighting or keep what you already have, changing out the types of bulbs you use can make a big difference in the aesthetic of your home. You might, for example, try out some warm bulbs in your living room to change the way the light illuminates the room, which can change the feel of the room quite significantly.
Change Up Your Wall Art
When it comes to creative home décor ideas, we're often thinking about the horizontal parts of our home where we can place furniture and other décor. But our walls offer plenty of vertical space that can catch the eye and completely change the aesthetics of a room.
To get started, try filling empty wall space with wall art that matches your interior design style, personality, and taste. For people who like multiple room refreshes throughout the year, it might make sense to swap out your wall art with seasonally appropriate images and/or colors. If you're just looking for simple ways to refresh your home once a year, you might try buying a large piece of artwork or a few pieces that work well together that can serve as a statement piece. Simply hang it in a prominent place behind the sofa, dining table, or bed and let it make its mark on the room.
Create an Accent Wall
While simply changing up some of your wall art can go a long way toward making your home feel fresh, creating an accent wall can take this innovation to a whole new level. To get started, you'll need to decide which wall to make your accent wall. Consider the focal point of the room, the room's function, the furniture arrangement, and the architectural details.
Once you choose the right wall for your accent wall, you'll need to decide what type of accent wall you want in your home. You can go for a painted accent wall, a bold pattern, a brick, shiplap, or wood panel accent wall, a gallery wall, or a mural. Because accent walls can function in so many different ways and because they can work in every room in the house, they're one of our favorite creative home décor ideas.
Redecorate Your Shelves
Whether you have bookshelves, an etagere, a hutch, a fireplace mantel, or hanging shelves, switching out your shelf décor can go a long way toward refreshing the look of the room. One easy way to get started is by choosing a theme to help narrow down your design. You can work a theme around one great decoration you love, or you can change up your shelves seasonally. But having a theme, even if it's a loose one, will help guide you in your décor decisions.
Prefer something a bit more abstract? Let color guide you. Choosing a limited color palette can help you choose items that complement each other and that make a distinct visual difference in the room. However you decide to redecorate your shelves, make sure it showcases your unique personality and style. This guide to decorating a hutch might help inspire some ideas.
Freshen Up Your Dining Room Table Décor
Another inexpensive way to freshen up your home is to take advantage of dining table décor. Table runners, for example, can be switched out frequently to add visual interest without hiding the natural beauty of your dining table. Swapping out a centerpiece can also be a great way to refresh your dining room, and because there are so many options, you can get as creative as you want to. Trays, on the other hand, can easily hold a centerpiece while allowing for stylish groupings that can showcase your unique style.
Try going seasonal with summer flowers and fruits or opt for something functional like honey, hot sauce, and other condiments. Whatever you choose, dining table décor can help transform your table, so you don't have to buy a new one. 
Ready for a new house appearance? Come to 21 E Shaw Ave, Fresno to check out our huge selection of living room furniture, dining room furniture, bedroom furniture, and home décor for sale at Lifestyle Furniture and start implementing these creative home décor ideas today! Or you can browse our website here for shopping online!