How To Decorate Your Home With Mirrors
Mirrors have remained a truly versatile decorating tool through the ages. Apart from being an essential in the closet, they can serve as attractive decor accessories and work in tremendous ways to enhance the aesthetic appeal of any space. When done right, decorating with mirrors is the perfect way to bring an instant dose of class and character to your home. From antique pieces with ornate, gilt-edged frames to stylishly sleek wall-to-wall reflectors, mirrors can be fashioned to complement a variety of decor styles ranging from classic to contemporary. Here are a few tips and tricks to keep in mind while decorating with mirrors. Click to image for shopping online if you are interested in it.
Consider the Reflection 
Before you hang a mirror take into account what is across from it. While we often hang mirrors based on available wall space, it's important to think about what will be reflected in it. When hung opposite an important architectural element, painting, or piece of furniture it will give that item even more importance—as it will if hung across from something unattractive. Also, whenever possible ​hang a mirror across from a window. It will significantly increase the amount of light in the room.
Placement Matters
Aside from placing it across from something visually appealing, a mirror should always be hung at the appropriate height for the space. Unlike art which should always be hung at eye level, mirror placement will depend on what you want to be reflected. Eye-level works in many cases, but higher or lower can work depending on the situation.
Think Big
Don't be afraid to use a large mirror in a small space. Mirrors create the illusion of depth and space so they can really help make a small room feel bigger. A full-length mirror leaning against the wall is a great decorative element to use in a tiny room. Mirrors are also great for narrow spots such as hallways.
Create a Focal Point
Mirrors make great focal points. It's why they are so often placed above mantels and dining room buffets. Hang sconces on either side and you've got the perfect focal point in any room. If you want to go even bigger, a wall covered entirely in mirrors creates a terrific feature.
Don't Forget About Style
Mirrors can be modern, traditional, edgy, classic—pretty much anything. It all depends on the frame. Consider what effect you want to create when choosing a mirror in a frame. A beautiful Chinoiserie mirror will have a far different effect on a room than a simple wood frame. There's also the mirror itself, smoky glass and antique mirrors with imperfections can be very moody and greatly contribute to the look of a space.
Hang Mirrors Properly
A small nail hammered into the wall won't cut it. Use proper wall hooks or picture hangers and be sure to use two (one at either end). This will ensure the mirror is held flat to the wall. A wire hung on a single hook is not only dangerous but it can cause the mirror to rest against the wall at an angle, distorting the reflection. If the mirror is very heavy, have it hung by professionals.
About Mirrored Furniture
Mirrored furniture has gone through a few periods of popularity. While it can be great for reflecting light and elongating walls, don't use it in a room that has a lot going on. The extra reflections will just be too much.
Use Several Mirrors at Once
Don't be afraid to create a gallery wall with mirrors. Like with any photo wall, treat them as one unit when deciding on placement. That said, a mirrored gallery wall will look best in a room with little clutter. All of the frames can be visually busy—add that to a small, cluttered room and it could be too much.
The Best Places to Hang a Mirror in Your Home
If you hang a mirror in a room, you'll be adding a basic accessory and necessity. Whether it's a hallway or grand ballroom, baby's room or bathroom, the addition of a mirror adds beauty to the space and makes it feel more open or spacious.
Wherever you intend to hang a mirror, be sure the view is something worthy of reflection. A mirror opposite a window will reflect a lovely outdoor setting and give the illusion of a second window. An interesting architectural feature can be reflected and give balance to a room. A mirror can be strictly functional or the focal point in a room. Whichever it is, it will provide light, beauty, illusion, and convenience to your home.
Bathroom
The first place you think of a mirror is in a bathroom. Sure, it often gets clouded when you get out of the shower, but you could not live without it—and shouldn't have to. Over the sink is the most popular place. Shaving and applying makeup are much easier with a good-sized mirror mounted in a frame or directly to the wall. Try installing one with a magnifying side hanging from the wall, and you'll love it!
If you have space, install a wall-hanging mirror with an adjustable arm directly across from the mirror on the sink wall. You'll be able to look at the back of your head without having to juggle a hand-held mirror. If you have a really small bath, you might consider hanging another framed mirror over the bathtub. It can help to make a small bath look larger.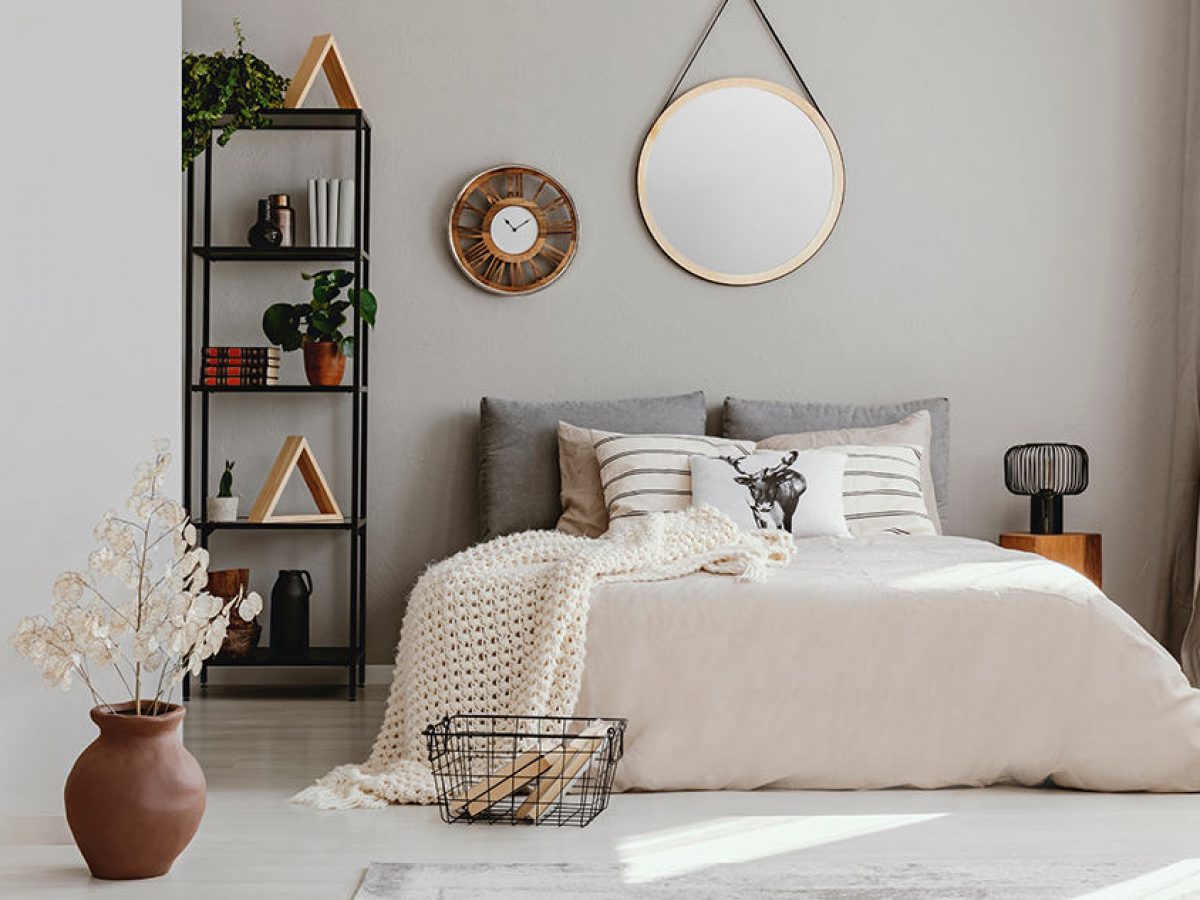 Bedroom
A full-length mirror is a must for any bedroom! If you have a wall large enough, hang it there. If you must, you can hang it on the bedroom door, on a closet door, or even inside the closet so it won't be seen except when you want it to be. This will make getting dressed much more convenient. Be sure you install the mirror with enough room in front to be able to stand back. It's hard to see if your slip is hanging down if you're too close to the mirror.
Child's Room
Children love looking at themselves in a mirror, and a child's room is the perfect place to hang one. For an infant, carefully suspend a mirror over the crib so the baby can see himself. A mirror on the wall near the baby's changing table will keep the child occupied while you're doing the changing. In a toddler's or older child's room, be sure to mount a mirror at the child's eye level. A simple mirror placed in front of a child in a car can give hours of distraction for a long ride.
Over a Desk
If your desk faces the wall, you might consider installing a wall-mounted mirror above it. It will help to make your home office feel larger, you'll feel comfortable that no one could come up behind you, and you'll get an idea of what's going on around you.
Near the Front Door
It's a wonderful idea to have a nice mirror mounted somewhere near your front door. Even better if there's a nice table or small chest beneath it. You'll be able to do a last-minute check on your hair and touch up your lipstick before going out. The table will provide a place to deposit mail and keys when you come into the house. A lovely arrangement of fresh flowers will look lovely, twice, when reflected in the mirror!
Over a Fireplace
A dramatic mirror installed over a fireplace will add warmth to a room. It will help reflect the activities in the room. Or hang a mirror on either side of a fireplace to help the room feel bigger.
On a Table
If you enjoy using candles and the beautiful glow they provide, use a mirror as a tray and stand the candles on the mirror. This will create the effect of doubling the number of candles and the light they send out. The only thing that won't be amplified is the lovely scent that so many candles now have.
Over a Buffet
A mirror over a buffet or server in the dining room is a nice touch. If you're entertaining, the mirror will reflect the lovely array of food you have displayed. Be sure the mirror doesn't show the dirty dishes in the kitchen!
Lifestyle Furniture supplies a wide range of mirrors for your home. Browse our collection here or come to the store at 21 E Shaw Ave, Fresno, CA 93710!