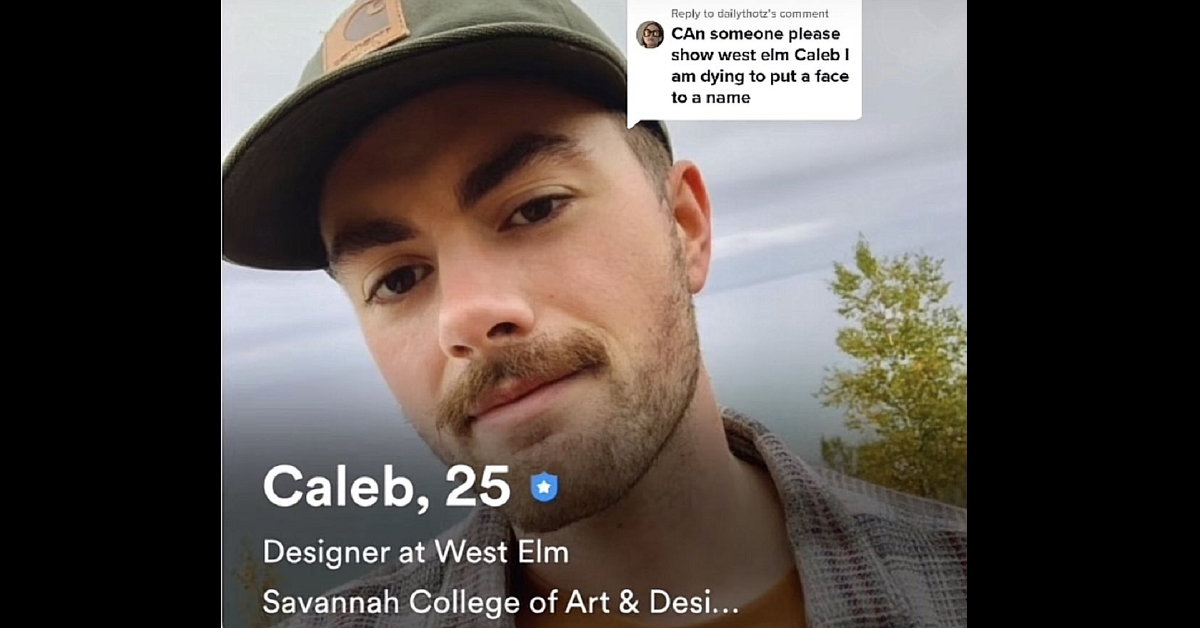 Who is West Elm Caleb & Why Are People Talking About Him?

West Elm Caleb seemingly has come out of nowhere, and it all started on Tiktok. The internet aka social media went crazy over an alleged 25-year old heartthrob who is a serial ghoster and called out for manipulating and abusing women emotionally. 
This all spurred from a TikTok that was made to be a relatable moment of what it's like dating in New York. One woman said, "F*** Caleb" & over 30 girls came out and said I had interactions with the same Caleb. Later, screenshots surfaced of West Elm Caleb sending the same exact message to all these women, sharing his Spotify playlist with them and claiming he made it for them, and overall showering them with love and empty promises just to leave them in the dark after an amazing first date. 
This dating tactic on women is being deemed as "love bombing" when a date showers you with compliments, gifts, and affection in a twisted bid to gain immediate trust, only to later disappear.
Caleb's now-infamous hashtag #WestElmCaleb currently boasts more than 108 million views on the video-sharing platform.
He is proclaimed as New York City's most eligible f – – kboy, West Elm Caleb: He is allegedly a young, lightly mustachioed furniture designer named Caleb with a nasty habit of aggressively wooing his dates before disappearing from their radars.
Now hundreds of women have come forward with their Caleb stories claiming that it is not the same guy as West Elm Caleb. Now, on Tiktok it has become somewhat of a myth or legend. The hunt for him is ongoing. 
The New York Post has attempted to reach out to West Elm's PR rep to hear their side of the story. 
So far, dead silence on their end of West Elm Caleb. Does this mean West Elm is ghosting us as well? With the furniture shortage that has been ongoing due to the pandemic many customers probably feel ghosted with their orders. 
Due to the many women claiming that their Caleb story is not really the real West Elm Caleb, but just another man that fits the same description and same name even. The woman who is credited for creating this story @meemshou claims that she has never met the "West Elm Caleb", but that many women had contacted her about the same man, leading her to share their stories in hopes of calling out a seral ghoster. 
Caleb has now become a character— or a meme — for the dreadful realities of online dating. If you've ever been single in this day and age, you know a West Elm Caleb. He's the one who never texted back after a seemingly amazing first date, leaving no explanation as to why he wouldn't follow up after going out of his way to charm.
If you want a funny take on this West Elm Calem story check out the Flagrant 2 podcast. 
2:40 - West Elm Caleb.
What is a "West Elm Caleb"?
Caleb is a good-looking guy who takes you on a great date showers you with love and then leaves with no explanation as to why he never followed up after the first date. 
As stated earlier in this article this is called "love-bombing" when a date showers you with compliments, gifts, and affection in a twisted bid to gain immediate trust, only to later disappear.
Women are claiming that this is a precursor to abuse and now claiming that love bombing is a form of emotional abuse on women. Is it? The internet has blown this up to abuse possibly falsely. To me, it sounds like a lot of women mad that they found a guy they liked, but he never called after the date. 
Is West Elm Caleb real?
He is allegedly a real man in the dating scenes of NYC. The actual Caleb has been pointed to Caleb Hunter, 25, according to Tiktok investigators and the women who allegedly dated him.  
The woman who initially went viral, TikTok's @meemshou, inadvertently launched the hunt for West Elm Caleb when she shared her own experience with a crappy Caleb — who turned out to be a different guy from the one that has captivated dozens of women IRL, and millions on social media.
In a now-deleted clip published last week, she explained that her initial viral video was created "to make a joke about this very tall Caleb" she briefly courted in NYC, which pulled in more than half-a-million views — "but I kept having girls comment being like 'is this West Elm Caleb?' "
"I was so confused," she told followers. "But then I get a DM from a Caleb who says he's also very tall, and I click on his bio, and it says 'West Elm furniture designer.' "
After countless women came forward to cross-reference details about the heartthrob lover, it's since been revealed that the prime suspect is a one Mr. Caleb Hunter. An alleged screenshot of his Hinge profile, depicting a young man with a cropped beard and the tell-tale mustache, and a tagline that described him as a "designer at West Elm."
Where is West Elm Caleb now? 
Ironically he has ghosted the social media scene and has not been seen since. All of his social accounts have been wiped clean of their contents and have not shown any activity of commenting on anyone's videos.