How to Incorporate Pouf in Your Space
You've re-designed your entire living room from floor to ceiling, complete with a spacious sectional, accent furniture and that perfect shade of paint. But still, that little touch of dimension and flair is missing. Enter the pouf. The pouf is a smaller, more plush relative of the ottoman or footstool you might find resting in front of a sofa. Poufs can sometimes resemble oversized, structured pillows.
Poufs are generally quite versatile pieces of furniture, acting as a footrest, extra seating, or simply a fun statement, depending on your needs. While poufs are generally found in the living room, they can also add personality and functionality to a bedroom, entryway, or kids playroom. Find out how to incorporate these playful furniture pieces into your space with guidance from the design team at Lifestyle Furniture.
Picking the Perfect Pouf
Poufs, much like other furniture pieces, are available in a wide variety of materials. For the most part, the shell of a pouf is made of one of the following materials:
Upholstery
Fabric
Leather
Fur
Jute
Before purchasing a pouf, it's important to think about how you plan to use it. Will your pouf act as a footstool, making it more prone to scuff marks? Do you have children or pets that might cause extra wear-and-tear on the pouf? In both of these cases, you'll want to look for a durable, washable material that can withstand a little extra usage. Leather and performance fabrics are both great options if you want to avoid excessive damage occurring to the pouf. If you aren't concerned with this kind of damage, consider more glamorous materials such as velvet and fur.
Poufs are diversified through material, color, and pattern, allowing for plenty of experimentation in your space. Place a pouf atop an area rug contrasting in both color and material and watch the room multiply in style and intrigue!
Prop Your Feet Up
Much like an ottoman, the pouf's intended function is to act as a place to prop up your feet. Whether you choose to go with an ottoman versus a pouf depends on the size of the room and the look you are going for. No doubt, poufs add a certain funky flair to a space that can't be matched by an ottoman. For those who object to a matchy-matchy look, a pouf paired up with a contrasting armchair offers a fun, mix-matched vibe. If you intend to use your pouf as a footrest, test out its firmness before you make your purchase to ensure it will offer enough support overtime.
Poufs Were Made to Party
During a large gathering, the last thing you want is for certain guests to stand around awkwardly waiting for an open seat. Be prepared for a crowd of any size with a few stowable poufs. When not in use, poufs can return to their place underneath a console table or arranged in a corner of the room. To ensure the comfort of your guests, shop for poufs that fall on the firmer side. Much like the infamous bean bag, a too-soft pouf will have party-goers struggling to get out of their seat!
Pair Them Up
Forgo the traditional coffee table and take a more modular approach. Find a couple identical poufs and bundle them up to form the base of your new 'table'. Then, set a large tray or piece of glass on top and 'pouf', you've got a unique alternative to the standard coffee table. If you plan to use poufs for this purpose, take extra consideration of the material they are made of. Leather is a great option in case of spills, and jute will offer durability against inevitable wear-and-tear.
Perk Up Your Bedroom
Think outside the living room and try adding a pouf to your bedroom. The soft, rounded lines of a pouf will add a plush, cozy feel to the room. There are a few uses for poufs in a bedroom setting, including:
A posh nightstand, with a tray set on top to place a lamp, reading materials, and other bedtime necessities.
A playful alternative to the bedroom bench, with the option to drape a throw blanket across the surface. You'll appreciate the extra space to slip on your pumps or prep an outfit for the following day.
A comfortable footrest paired with your favorite armchair, perfect for nighttime reading.
Pop a Pouf in the Playroom
It's no mystery why poufs make an excellent addition to a playroom or child's bedroom – they're plenty of fun! Parents love poufs because they act as a versatile piece of furniture that can withstand the tests of time (and wear). From a kid's perspective, poufs fall somewhere in between the categories of furniture and stuffed animal. Find a pouf that's small enough for your child to move around as they see fit. Better yet, bring your little one along for a shopping trip and watch their eyes light up when they find the perfect pouf. Allowing them to make this choice for themselves will encourage their use of the pouf to read, draw and get their creativity flowing.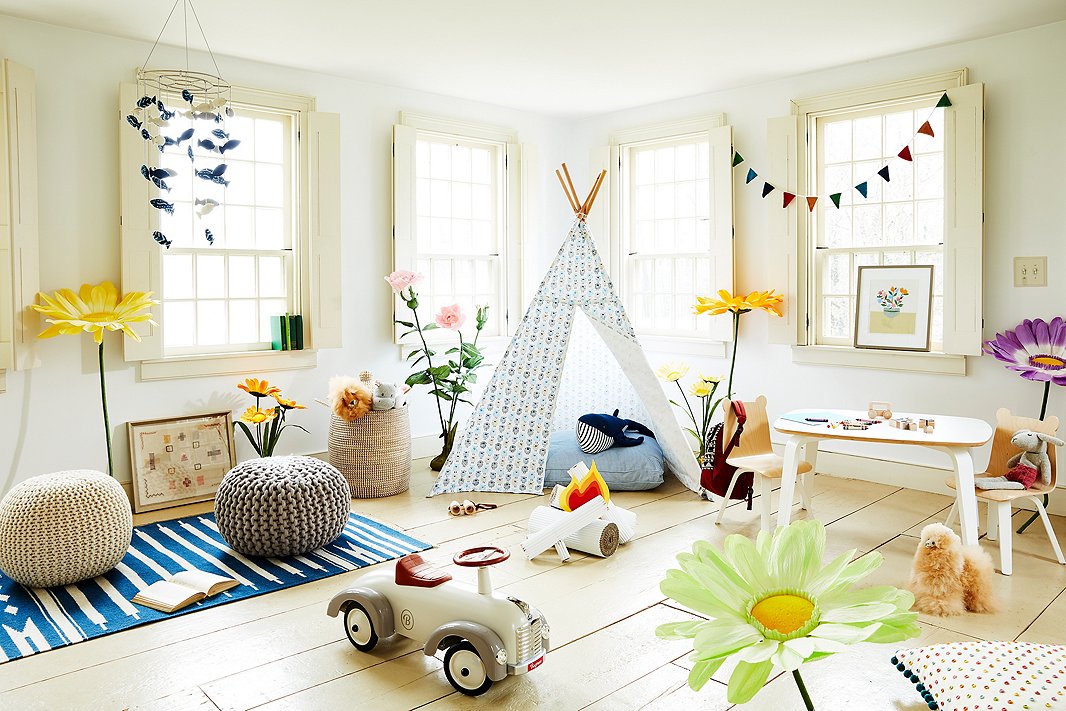 Poufs as Posh End Tables
In a pinch, a pouf can act as a mod end table next to a sofa or armchair. Poufs are especially suited for this purpose given how stable they are, particularly useful in a home with small children running about. If you plan to use a pouf as an end table, make sure to select one with a flat, structured surface. For added stability, add a small decorative tray atop the pouf where you can set down a drink or reading material. Before you make your purchase, consider the height of both the pouf and your sofa or chair. You'll want to avoid any inconveniences that could result from a major height difference between the two pieces of furniture. For reference, the ideal height for an end table is about 3 inches shorter than the arm of your sofa.
Pep Up the Place
Poufs add a sense of youthful liveliness to whatever space they're in. Given their fresh appeal, poufs make a great addition to a rented space where playful shades of paint and other updates are not possible. In a dark, dreary room that doesn't get much natural light, a pouf is a great way to bring in some much-needed joy. For an extra pop of excitement, choose poufs featuring colorful, detailed patterns, such as the Siem pictured below.
Personalize Your Foyer
After a busy day, there's nothing like returning to the comforts of home. Give yourself a joyful welcome home with a pair of poufs added to your entryway. The designers recommend stowing your foyer poufs below a complementing console table. You're sure to make use of them when tying your shoes before you run out the door for another active day!
Tip: Embellish the look of your foyer poufs with a small stack of coffee table books placed on top of a complementing throw blanket.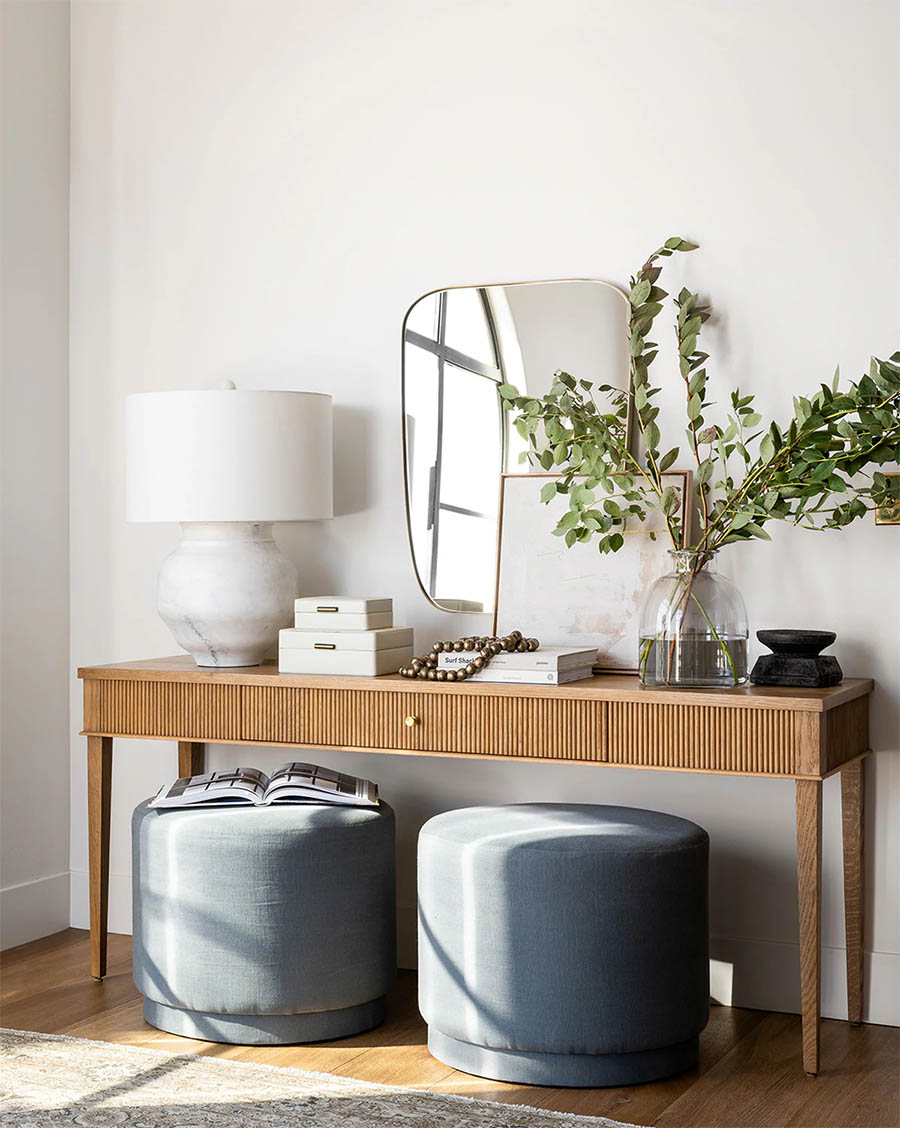 Picture-Perfect Balance
When you take a step back and look at your living space, you may get the impression that something is not quite balanced. It could be that there is a corner of the room that seems particularly empty, or that a certain piece of furniture overpowers the others. To create a sense of balance and fullness to a room, try adding a couple thoughtfully chosen poufs. Although poufs look great when paired together, they don't always have to be coupled up. Experiment with the position of your poufs, placing them on opposite sides of the room, or on either side of a sofa or bed.
Pull Your Pouf Out to the Patio
In general, poufs are made for interior use. However, if you have a large outdoor gathering, poufs can make guest appearances as extra seating, a place to set down food and drinks, and as fun conversation starters. You might also enjoy using a pouf to prop up your feet and get some sun on warmer days. Just remember to bring your poufs back indoors so they aren't damaged by rain, sun, and other outdoor elements.
Shop Plenty of Poufs at Lifestyle Furniture
Lifestyle Furniture is your go-to resource for all home furnishings large and small. Room by room, piece by piece, pouf by pouf. Our staffs are here to help you design the space of your dreams. So, what are you waiting for? Start shopping for poufs at Lifestyle Furniture today and get one step closer to a lively, magnetic appeal in your home!