Getting Your Home and Furniture Ready for Holiday Company
The holiday season is indeed a "wonderful time of the year" when a majority of people look forward to spending quality time with their loved ones. Being a host during the holidays is an honor and a privilege, but sometimes it may come with a lot of pressure to keep your family and guests comfortable.
Preparing your home well in advance for hosting can help alleviate the pressures associated with catering to everyone else's needs and allow you to enjoy the festivities with your loved ones. Here's a quick overview of a few things you can do around the house in preparation for your guests this season.

Update Your Dining Room
The dining room/area is one of the most important parts of the house during the holidays because it's primarily where everyone gathers to share meals. Whether you have overnight guests or daytime guests, your dining room should be ready to accommodate everyone.
To have enough room, this may be a great time to update your dining table or get additional dining chairs for your pre-existing table. You can always store extra chairs after the holidays or use them to create seating space in your home office, entryway or place them on empty corners of the house.
Dining benches make for an easy way to add seating space in the dining room and every other space around the house without spending extra on additional furniture. For instance, if you have a rectangular dining table with 6 chairs, you can rearrange the chairs on one side, and place the bench on the other, turning your table into a 10-seater. You can also use the bench as extra living room or outdoor furniture when necessary and later repurpose it.
To add holiday flair to your dining room, you can:
Invest in an area rug to make your space warm and cozy
Add table linen to protect the table and for easy cleaning
Create a holiday-themed centerpiece to bring in that holiday charm
Loose Covers For Upholstered Furniture
Keeping a home clean during the festive season is one of the most daunting parts of being a host, and even more hectic if your company includes children. People tend to spend more time indoors during the holiday, making it harder to keep clean and tidy, especially those upholstered furniture.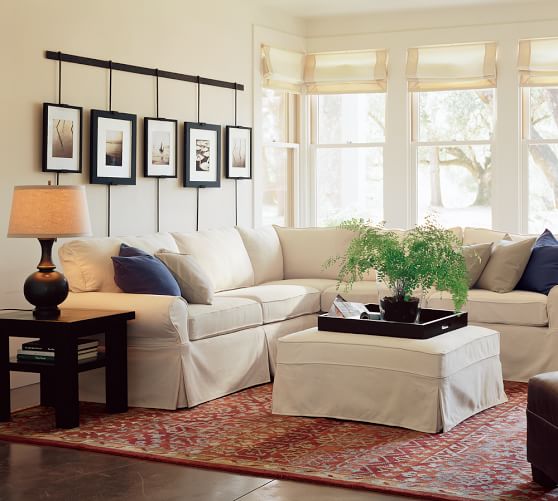 To save yourself time and energy, you should consider investing in loose covers, which are very easy to clean and also protect your furniture from wear and tear and permanent stains. Or better yet, this may be the time to update your living room with new leather seats which are easy to clean. Sectionals are a great option for maximizing seating even in limited space, and can also accommodate overnight guests.
Create Room for Overnight Guests
Sleep is important, and more so during the holidays. Nothing ruins a great holiday more than lack of sleep from uncomfortable furniture. As a host, it's only fair for your guests to expect decent and comfortable sleeping arrangements. To ensure your guests are comfortable, you have to prepare the guest room in advance, making sure it's clean, dust-free and has clean and comfortable linen.
If you have a home office, you can turn it into a guest room by adding a sleeper sofa. A comfortable couch can also serve as a sleeping area if you throw on some pillows and a comforter.
Add Warm Decor Pieces
It's customary in most American households to decorate homes according to the holiday theme. You don't have to go all out with dramatic Christmas decorations and lighting all around your house to be welcoming to your guests. You can cozy up your home by adding:
Wall art in the living space or the entryway
Warm lighting fixtures to create an inviting ambience
Floor mirrors to expand spaces and improve lighting
Spruce Your Home for the Holidays with Lifestyle Furniture
The holiday season is a great time to add new life into our homes not only in anticipation of guests but for our families as well. Whether you're looking to change up your home decor, or add a few pieces to elevate your home, we have you covered with a wide range of furniture with different fabrics, textures and colors. Visit our furniture stores in Fresno today to start your holiday home shopping.