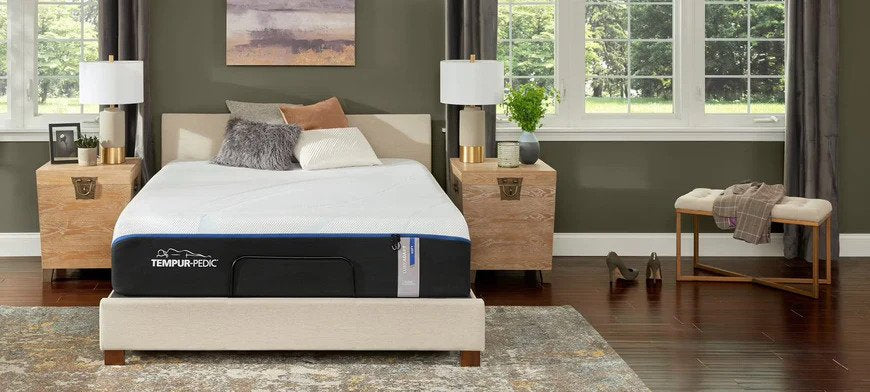 Choosing the Right Mattress: Hybrid, Memory Foam, or Spring?
A good night's sleep. It's essential. There's no controversy. All the experts from brilliant doctors to our very own mothers concur, sleep is bedrock to good health and a happy life.
Lifestyle Furniture is also a sleep expert. We know the art and science of the perfect mattress. When it's time to go to bed, retiring to a comfortable mattress is the first step to a good night's sleep. It's important to find the sleep surface that's right for you.
Did you know there are over 600 manufacturers of mattresses? It's no wonder we're overwhelmed when it comes to buying a mattress. Despite the number of manufacturers, mattresses fall into three categories: innerspring, memory foam, and hybrid. Knowing the differences between these types can help narrow your options. Our mattress experts have provided a guide for navigating your purchase so you can make an informed decision and find the right mattress for your needs:
Innerspring Mattresses
The innerspring concept of metal wires combined with springs first appeared in 1871, but it wasn't until the 1930s that innerspring mattresses gained popularity. The coils or springs were surrounded by layers of wool or feathers for more cushioned support.
Today's innerspring mattresses use cotton or polyurethane foam for the layers surrounding the springs. These layers vary in depth, although most are less than two inches. Some innerspring mattresses use individual pocket coils that reduce motion transfer.
Stomach sleepers have their most restful sleep on firmer, innerspring mattresses. However, couples interested in innerspring mattresses should look for pocket coils for a more restful night's sleep. Hot and plus-sized sleepers may find the innerspring mattress provides the best support and minimizes heat build-up during the night.
Memory Foam Mattresses
Did you know: not every foam mattress uses memory foam. The viscosity (shaping) and elasticity (resilience) of memory foam come from the materials used during manufacturing. Each brand has their own "recipe" for memory foam, which impacts how a mattress feels.
Memory foam mattresses typically include the following three components:
Core: The mattress base or core is made from firmer foam that provides stability and support.
Transition Layer: This layer's foam is firmer than the top layer but not as firm as the base. Many transition layers include cooling technology that removes heat from the comfort layer.
Comfort or Top Layer: The comfort section may have multiple foam layers. They are designed for contouring and cushioning. Some top layers include breathable foam to help cool the sleeping surface.
Because foam captures and retains heat, these mattresses might be uncomfortable for hot sleepers. Memory foam mattresses are good for side sleepers as they relieve stress on pressure points. For couples, memory foam reduces noise and disruptions caused by movements during sleep.
Hybrid Mattresses
Mattresses with an innerspring base surrounded by foam layers combine the best of foam and innerspring mattresses. Because of a comfort layer that contours to provide spine support, hybrids support most sleeping positions. They aren't quite as bouncy as innerspring or as spongy as foam.
Hybrids may work well for couples with different sleeping positions since they support most positions equally well. Their construction also reduces motion transfer, making for a more restful sleep.
Most hybrids use pocket coil technology to minimize sagging and include gels to help regulate temperature. However, differing mixtures of materials per brand means you'll want to test the mattress in store before making a purchase.
Life is complicated. Getting a good night's sleep shouldn't be. Lifestyle Furniture has done a lot of legwork on our customers' behalf, carefully vetting options and selecting a great lineup of innerspring, memory foam and hybrid mattresses. What's more, our professional sleep consultants can help you make the mattress decision that's right for you and your body.