Bedroom Layout Ideas to Make the Most of Your Space
Bedrooms aren't just for sleeping. They're the place we start and end almost every day of our lives. And the right layout can make a big difference in the style, feel, and functionality of our bedrooms. In today's blog, Lifestyle Furniture will offer some bedroom layout ideas to help you make the most of your space.
Celebrate Symmetry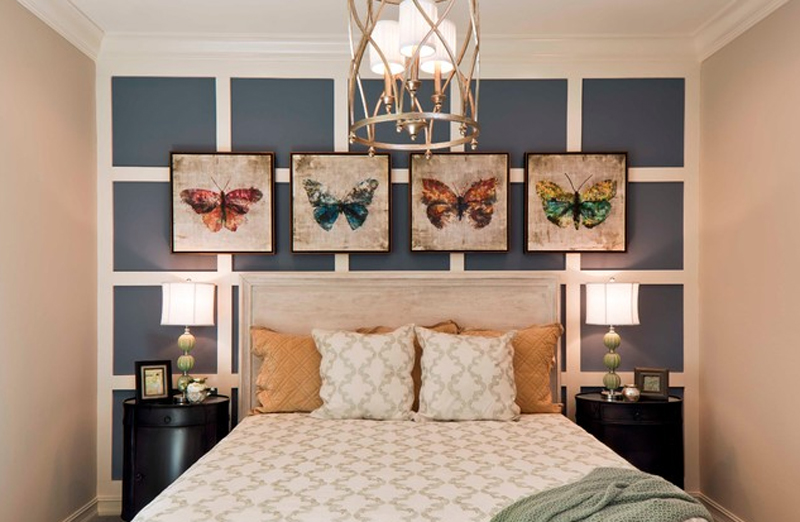 Especially if you're dealing with an awkwardly shaped bedroom layout, symmetry can go a long way toward making your bedroom feel intentional, balanced, and calm. One easy way to create symmetry in your bedroom is by placing the bed in the center of the room and having matching nightstands on both sides of the bed. You can even place matching table lamps on both of the nightstands for an additional dose of symmetry. But it's not just furniture and lighting that creates symmetry. You can also use carefully curated wall art for the same effect. You might, for example, buy a set of two large pieces of artwork and place them on either side of the bed.
Make the Most of Your View
Does your bedroom have a great view? Whether it's a seaside, lakeside, or poolside view—or even if it just looks out into your beautiful backyard garden—if you're lucky enough to have a nice view, you might as well take advantage of it. Start by positioning the bed so you can easily see out the window. That way you can start and end your day with a nice dose of nature. From there, you might utilize a window seat or a sitting area that faces out. Just make sure not to block the view with furniture or bulky window treatments. That way, you get as clear a view as possible.
Accommodate Architecture
One of our favorite bedroom layout ideas involves accommodating the architecture of the room. If your bedroom has a stone, wood, or brick wall, for example, you might arrange the room so that the bed is against that wall. That way, you'll better showcase the accent wall. If you have a fireplace, on the other hand, you might want to place the bed directly across from the fireplace, so you'll have a great view of the fiery glow. Whatever architectural accents you have in your room, be sure to consider them when deciding on your bedroom layout so you can make the most of your space.
Block Out Some Space to Binge Watch
Sick of straining your neck while watching TV from bed? If you enjoy watching television from the comfort of your room, you can maximize your viewing pleasure with some extra bedroom seating. Chairs or settees at the end of the bed work great as a cozy place to catch up on your favorite shows. And they double as a great place to chat with your spouse after a long day or to plop down with a great book. Not only are sitting areas a great way to fill up some extra space when decorating a large bedroom, but they can be incredibly functional, and stylish.
Drop in a Desk
With more and more people working from home, finding space for a home office is a top priority. While living rooms serve multiple purposes and tend to get a lot of foot traffic, bedrooms tend to go unused most of the day. That's why dropping a desk into your existing bedroom can be a great way to utilize extra space and double down on function. Not sure how to get started? Writing desks tend to work well in multifunctional spaces, as they don't take up a lot of room while still providing the space you need to get things done. We've even got a great resource that features small home office ideas that make the most of shared space.
Give Yourself Space to Get Ready
When it comes to bedroom layout ideas, this one is great for people with a little space to spare in their bedroom. Try creating a dressing area where you can get ready for the day. Not only is this a helpful option for people with limited bathroom space, but it's also a more comfortable option for people who really take their time getting ready for the day. To get started, find a nice vanity and mirror that fits your look. If you need extra clothing storage, you might even place the vanity between matching chests or armoires for some stylish symmetry.
Create Distinct Zones
Especially if you're decorating a large rectangular bedroom, creating distinct zones is a great way to take advantage of the extra space. You might, for example, have a seating area, a bed area, and a home office area, all within the same room. To create clear zones, you can always start with the floor coverings. Generally speaking, our eyes respond to changes in floor coverings, so having different rugs in the different areas will help the spaces look visually distinct. You can also use taller pieces of furniture, table lamps, large plants, or even partitions to establish borders between the different bedroom zones. That said, you'll want to follow a strict color palette within the room to make sure that all of the areas work together toward a cohesive look.
Squeeze in Some Storage
Not all closets are big enough to accommodate your whole wardrobe, especially if two people are sharing the space. That's why one of our favorite bedroom layout ideas involves squeezing in some extra clothing storage. While dressers and chests work great in any room, no matter the size, a wardrobe or armoire might be particularly helpful if you need additional hanging space. Because armoires tend to be large, you'll want to consider putting it on the same wall as the door. That way, it won't take away from the bed, which is typically the focal point of a bedroom.
Now that you have these great bedroom layout ideas, it's time to start shopping. Visit Lifestyle Furniture store in Fresno, CA or browse our huge selection of bedroom furniture online, including beds, nightstands, dressers, vanities, benches, and more right here.