Top Interior Design Trends For 2022
The new year catapults a fresh start to optimistic everything's ahoy. Following turbulent times for all, we're raring and ready to connect, take action and crack-on with a rejuvenated perspective. Our homes and how we use them has massively evolved as we embrace multifunctional spaces and a sense of retreat. With wellbeing, mindfulness and sustainability as catalysts for change, home decor trends 2022 explore exciting possibilities into a bright new world.
The last couple months have brought so much change since the pandemic hit and it has affected the way that we live and use our homes. People want to feel safe and comfortable.  Since the lockdowns kept so many of us stuck at home, it really inspired us to want to make the most of our space. As a result, our homes have become a place of work, education, rest, entertainment and eating. We've had to adjust and use our kitchens as home offices, our bedrooms as classrooms for our kids and our living rooms as a place to exercise. Each room has had to become multi-functional as we transition to this new way of living.
So with that said, let's dive into the 2022 home design trends you can expect to see in the upcoming year. Click to image for shopping online.
Convertible Furniture
As mentioned above, the pandemic has shifted the way we use our spaces and has forced us to use our homes in more multi-functional ways. Versatility is going to be a common trend going into 2022 as we'll see spaces and interior design pieces have more than one use.  Expect to see more convertible furniture used in home interiors for 2022.
Extreme Minimalism
While minimalism has become more common in recent years, extreme minimalism is definitely on-trend for 2022.  Extreme minimalism has been brought on by the need to purge belongings to free up space for daily activities that now have to be accomplished from within the home. In addition to creating space, purging/decluttering is said to help reduce stress.  As a result, people are doing away with unnecessary possessions within their homes to feel more at peace and organized.
Curvy Furniture & Decor
For interior design in 2022, comfort and durability will be key while current furniture trends see round furniture being very popular for 2022.
Furniture and decor with a soft edge will give a more feminine and romantic feel to your room and also soften your more angular furniture. 
And the curves will be complemented by lots of lush fabrics in rich colors that immediately lift a room's decor and add a luxurious touch. This will bring warmth to minimalist spaces or complement a maximalist style but feel free to add contrast in the form of metal accents or smooth surfaces.
Natural Materials
The use of natural materials has been gaining popularity in the last several years, but in 2022 expect to see them more than ever. Natural materials not only add warmth to a space and bring in a sense of coziness, but they also help to offset the amount of technology we're being forced to use during this unusual time.  Incorporating organic materials in home interiors such as  wood, cane, rattan, jute, stone,linen, cotton, wool, etc  will help provide balance in our overly computer-connected lives.
Sustainability
Sustainability has become more talked about in the last couple years as being at home and taking a step back from regular life has allowed people to be more conscious of their environmental impact. In 2022 sustainable or recycled materials will be more and more common - people are beginning to make positive choices for our planet and sustainability is now a selling feature when it comes to attracting the attention of homeowners and builders. Expect to see furnishings, flooring and architectural elements that use  environmentally-friendly materials such as; reclaimed wood, cork, bamboo, jute, glass, recycled plastic and metal.
Shades of Green
Shades of green will be popular for 2022 and so will natural and eco-friendly decor.
Pastel and tinted greens refresh a room without overpowering the look and the deeper shades add a pop of color to a neutral palette.
Expect to see plenty of houseplants, especially in homes without access to a garden. Plants not only complement natural hardwood flooring and neutral colors, but also help to bring a feeling of balance and joy into the home. But take time to research the best indoor plants for your home, taking into account the direction of the sun and how warm your home is.
Eco-friendly materials will be popular in 2022, including recycled and reused materials as well as those from sustainable sources. Plastic will be replaced by glass and there will be a renewed focus on sustainable furniture and investment pieces.
Warm-Toned Kitchens
Move over all white kitchens....warm tones are in!  Although white-kitchens are classic and will never really go "out of style", 2022 is all about adding warmth to the home to make people feel comfortable and cozy.  Expect to see a lot more kitchens that embrace warm, natural mid-tones in their cabinetry, furniture and decor.
Light Coloured Floors
Light coloured hardwood floors will continue to be on-trend 2022 for a few reasons.  First, light colors help to make a space feel larger so it makes sense that in a time that we are confined to our homes, we'd want to make our surroundings feel more spacious. Second, light floors reflect the natural light that comes in from windows and helps to make the light travel around a space, thus making it feel more airy and bright. Third, hardwood flooring that is obtained from a domestic resource is actually one of the most environmentally friendly flooring options which is very aligned with the trend for sustainability. And lastly, wood flooring is one of the best examples of how to bring natural elements into your home in a beautiful way.
Black Accents
Although there is a common theme of natural elements coming into 2022, black accents will be more popular as well.  This is likely because of the beautiful contrast they provide against natural wood tones and other organic materials.  You can expect to see black being used in furniture, lighting, home decor, trim, doors, walls, ceilings and kitchen appliances.
Comfort & Durability
Due to spending more time than ever in our homes in 2020 and 2021, comfort and durability became key elements for home interiors. Without certainty about whether we will be able to get back to regular life, people are embracing the fact that they may have to work and school from home for several more months.  As a result, we will see furniture, textiles and materials that focus on comfort while being able to withstand more frequent use.
Art Deco Patterns
Art Deco patterns are fun and playful which is something people are all craving after such a long haul of being cut off from connections with family and friends! 
Art Deco design was originally born after WWI out of newfound optimism, hope for the future and a willingness to embrace bold, new ideas. The style emphasizes functionality, modernism, glamor and elegance and is characterized by rich colors, gold, geometric lines and exaggerated curves.  
As people reminisce about their old lives and yearn for fun and positive change, we see a resurgence of this style and can expect to see it show up in wallpaper patterns, textiles and especially tiles.
Moroccan-Inspired Spaces
The Moroccan interior design style encompasses so many of the elements that have been mentioned up until now so it makes sense that the style will be a point of inspiration for 2022. Moroccan styling is all about comfort, the warm colors of the desert and natural textures and materials.  It also emphasizes fluid lines, bold tile work and arched architectural details. Expect to see Moroccan-inspired influences as a solid interior design trend in 2022.
Zoning Areas For Work, Rest And Play
Our homes have never had to work harder than in recent years, especially living rooms – becoming home offices, home schooling hubs and an entertaining space. As a result the emerging trend of zoning is set to be an ongoing way of making sure our living rooms perfectly suit our multifaceted lifestyles.
Whether a single or open-plan area, the use of thoughtful zoning allows homeowners to create divisions and individual spaces to cater for work, rest and play. Methods like non-permanent room dividers, well-placed rugs and furniture layouts can help to provide separation without entirely enclosing dedicated spaces.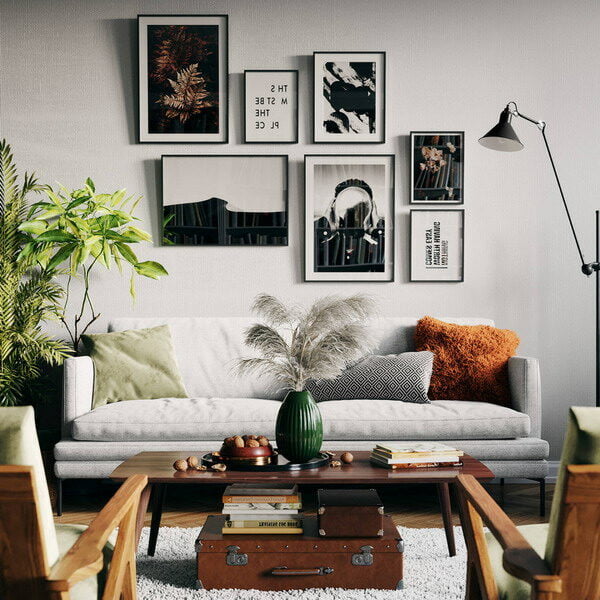 70's Retro Kickback
A dash of vintage is more than enough to liven up a room. Up-and-coming homes are brightened by subtle overtones of moss greens, burnt orange & additional warm neutrals. Look for beautiful splashes of color and patterns at your local flea market or repair an old couch. It's one thing to like the vintage home interior design trend, but it's quite another to select the correct item for your home. Here are some fast ideas for achieving a vintage look for 2022:
– Explore antique stores, fairs, and markets regularly. Persistence is essential for locating what you're seeking at a reasonable price.
– Common names tend to be more costly and more complicated to get. Investigate options by studying the style or item you desire.
– Purchase antique furniture online. To prevent the risk of internet purchasing, stick to trustworthy websites.
These are some top predictions for 2022 interior design trends from Lifestyle Furniture. Which ones do you think will be most popular, and which is your favorite trend? Use the ones you love and take a pass on the others. We hope this gives you some insight and inspiration for your home decor and design. 
Check out our website or come to our store at 21E Shaw Ave, Fresno today to see more and get help designing your favorite spaces.